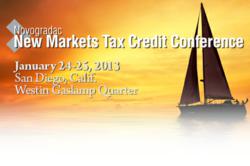 San Francisco, CA (PRWEB) December 03, 2012
Novogradac & Company LLP will bring together hundreds of active new markets tax credit (NMTC) professionals for its annual New Markets Tax Credit Conference. The event, being held Jan. 24-25, 2013 at the Westin Gaslamp Quarter in San Diego, Calif., will once again serve as a forum for a wide variety of high-level group discussions, allowing program participants of all experience levels to network and expand their industry knowledge. During the course of this two-day conference, attendees will explore a host industry issues, discover new and innovative ways to develop projects in an ever-changing environment, analyze legislative changes in the wake of the recent election and fiscal cliff, and grow their technical skills and knowledge.
"We've designed this event so that attendees can grow their knowledge base and discover new strategies, and it will serve to provide a strong foundation on which to build projects as well as introduce participants to new faces within the industry," says Owen Gray, conference chairman and partner in Novogradac & Company LLP's San Francisco office. "Now is an excellent time to meet and mingle with NMTC professionals. With all of the uncertainty surrounding the federal deficit and looming cuts, presenting a strong front and continuing to increase one's understanding and awareness of the program is more important than ever."
This year's conference will cover a host of new and timely issues, including the relationship between the U.S. Department of Agriculture and NMTCs. Novogradac & Company has crafted a two-track agenda that uncovers the very latest project opportunities and scrutinizes successful projects so that attendees can learn from real-life case studies. Panel sessions will feature information critical to project planning, including qualified low-income community investment (QLICI) portfolio management and how to track and monitor the community impact of a specific project. A track focusing on recent NMTC case studies will look at the lessons to be learned from Mercado del Barrio and selected charter school projects, as well as potential exit strategies.
Like all Novogradac conferences, the New Markets Tax Credit Conference boasts a line-up of the industry's elite. Conference panelists, who are prominent experts in the field of community development, will clearly and thoroughly address the latest industry information and facilitate meaningful networking opportunities. Along with the keynote luncheon and two networking breakfasts, attendees are also invited to take part in a special networking reception to be held Thursday, Jan. 24 at 5 p.m.
The conference will also feature two pre-conference workshops: NMTC 101: The Basics and NMTC Compliance Hot Topics, both on Wednesday, Jan. 23, 2013. Separate registration is required and additional fees apply.
The New Markets Tax Credit Conference is co-hosted by Dudley Ventures, Nixon Peabody LLP, PNC Bank, SNR Denton, Squire Sanders, U.S. Bank and Chase. Sponsors include Capital One, Lane Powell, Polsinelli Shughart PC, Husch Blackwell, Smith NMTC Associates, United Fund Advisors and Wells Fargo.
Conference details and the complete conference agenda can be found at http://www.novoco.com/events/nmtc/san_diego/index.php.
Novogradac & Company LLP, a national certified public accounting and consulting firm headquartered in San Francisco, Calif., is consistently named by Accounting Today and Inside Public Accounting as one of the top 50 accounting firms in the country. Inside Public Accounting also named the firm as one of the 25 best managed accounting firms in 2010 and the San Francisco Business Times has recognized it as one of only five companies that for five consecutive years has made its list of the Fastest Growing Companies in the Bay Area.
Novogradac & Company has offices in San Francisco and Long Beach, Calif., Portland, Ore., metro Washington, D.C., Atlanta, Ga., Detroit, Mich., St. Louis, Mo. and Kansas City, Mo., as well as in New York, N.Y., Boston, Mass., Dover, Cleveland and Columbus, Ohio, Austin, Texas, and Bellevue, Wash. For more information about Novogradac & Company LLP and its national accounting, consulting and valuation practice areas, please visit http://www.novoco.com.
For more information about Novogradac & Company LLP's New Markets Tax Credit Conference, contact Daniel Stern at 415.356.8064 or daniel(dot)stern(at)novoco(dot)com.