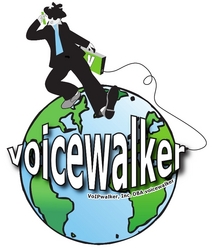 "VoiceWalkers' Digital Voice Advantage Hosted PBX product has saved me a lot of money and the additional features have allowed me to be more effective in reaching my customers" Steve H.
Woodridge, IL (PRWEB) June 21, 2010
VoiceWalker is now hiring to increase its sales force as a result of the release of Digital Voice Advantage, their suite of Voice over IP (VOIP) products for small to medium and multi-location businesses. Digital Voice Advantage is saving customers as much as 45% off of their current telecommunications expense.
According to Steve Barnett, Vice President of Sales and Marketing for VOIP provider, "after releasing our Digital Voice Advantage product line, the increase in Hosted PBX and SIP Trunking opportunities has been such that we are immediately hiring experienced sales representatives to assist us in addressing those opportunities."
"We are immediately targeting an increase in sales people to help us provide support to the hundreds of businesses looking to save money and improve their communications capabilities by transitioning their local service, long distance service and in many cases, their business phone systems to the more flexible and cost effective VOIP services provided by Digital Voice Advantage."
Many companies have been holding off on making the move to Voice over the Internet out of concern over quality and reliability. While in the past these concerns were valid, in today's environment this may no longer be the case. According to Mr. Barnett, "Voice over IP (VOIP) has reached the point of virtually universal applicability in the business environment. While concerns about quality and reliability should always be present when making decisions related to a businesses communications, there is rarely a point where those concerns should prevent a company from evaluating new technology, the potential cost savings, and new means of communicating with their customers. With the technology present in newly available premise equipment, most quality and reliability issues can be dealt with relatively easily. Combine that with a quality Internet and Hosted PBX or SIP Trunking provider and you should receive as good, if not better, quality and reliability than you are getting today from your current VOIP provider."
Because of its increase in business VoiceWalker is now hiring! So anyone seeking a position in Sales, with experience in the Voice over IP (VOIP) industry should send their resume and cover letter to info(at)voicewalker(dot)net. For more information on this VOIP provider, visit the company's Web site.
###