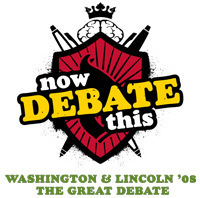 Who was the better President? George Washington or Abraham Lincoln?
Philadelphia, PA. (PRWEB) July 1, 2008
The final 16 contestants have been chosen out of hundreds of online participants as finalists in Now Debate This, the first ever nationwide online youth focused educational/political reality show scholarship contest, Washington and Lincoln '08 - The Great Debate. http://www.nowdebatethis.com/
The unprecedented competition created through a unique online social network for high school juniors, has announced the Top 16 finalists, out of the students who best tackled one of three political/historical questions. These finalists will now be given the unique opportunity to debate the question, "Who was the better President? George Washington or Abraham Lincoln?" The names of the 16 contestants were announced LIVE on Thursday, June 19 at the National History Day finals in Washington DC, where aprox. 8,000 people attended in person, with millions more at home viewing online through The History Channel.
With video entry uploads to YouTube, the Q&A debate attracted strong participant interest. Throughout the unique online entries, the participants included students of various ages, nationalities, races and interests and represent the heart of American culture in a unique way.
The group of 16 heading out on the road for the experience of a lifetime, will also include a Florida student who, due to some Florida state laws was not eligible to win, but submitted such a compelling entry that the judges chose to include him in the group as the exclusive student reporter, covering the events along the way from the viewpoint of today's youth.
Following the announcement, the 16 contestants will begin their once-in-a-life time experience as they embark on a summer-long exploration into the lives of Washington and Lincoln. With travels across the U.S. by bus, students will explore the principles of America's founders from the 1700's, engage in the quest for freedom and examine how it challenged the constitution from the Civil War to today. The lives of these two men as presidents and commanders-in-chief will be explored, including how elements such as principals, political platforms, personal views and faith affected their lives.
Each contestant will receive a $3,500 stipend, plus a new laptop and video camera to document the summer experiences. The task of each contestant will be to engage people across the world in a great online debate about Washington and Lincoln. The job includes creating videos, blogs and community outreach, all based on George and Abe.
Beginning July 26, 2008, the two-week trip will take the 16 contestants to Washington DC, Virginia, New Jersey, Springfield, IL and Philadelphia to experience the lives of these presidents firsthand and to document their journey (details to follow). Finally, on August 9, the contest comes full circle as the students debate Washington and Lincoln in round robin fashion, until only two finalists remain. All contestants can win up to $25,000 in scholarship and no less than $2,000.
The two winners will then return to Philadelphia on September 17, on National Constitution Day, for the final debate at the National Constitution Center, where the winner will walk away with a $150,000 scholarship. The runner up will receive a $50,000 scholarship.
Now Debate This is a unique vision developed to reach and teach kids about history, culture, the American leaders and ways of the forefathers and how they relate to our world, elections and influences today. With 16 contestants from around the country exploring, researching and exposing truths, historical methods, personalities and the foundations of culture through deep study of who President Abraham Lincoln and President George Washington were as men, leaders and influencers, these contestants will not only learn about these men and their lives, but will teach others and relay their vision and impact on our lives today through their insight and discovery.
In addition to the Washington & Lincoln '08 Debate, Now Debate This has opened a special social networking Blog site where students can chime in and discuss relevant topics facing high school students today with their peers. Students in the competition answered questions such as "What Does Patriotism Mean to You?" "What can the Declaration of Independence Teach Us in 2008?" and "What is the most important duty of the President as Commander-in-Chief?" and submitted creative and unique videos representing a variety of topics and issues. To learn more, please visit http://confab.nowdebatethis.com/.
Sponsored by Pinnacle Performance Group of Philadelphia, the Washington-Lincoln '08 Great Debate project has attracted a number of national partners, including Abraham Lincoln Foundation, Abraham Lincoln Presidential Library and Museum, Mount Vernon, National Constitution Center, National Forensics League and National History Day and is made possible through the generous funding of Dr. John M. Templeton, Jr. and Dr. Josephine Templeton, of Bryn Mawr, Pa. Both Drs. Templeton are lovers of history and have a long legacy of supporting education and scholarship projects that have made a profound impact on today's culture through their unmatched philanthropic efforts to this end.
"America's Founding Fathers clearly believed: 1) that our freedom did not come by chance; 2) that freedom requires both sacrifice and vigilance; 3) that self-government requires the moral qualities of personal responsibility and prudence; 4) that freedom needs to be actively defended and promoted; and 5) that freedom is fragile and can be lost from either internal or external threats," said Dr. Jack Templeton. "As an inheritor of these beliefs, of George Washington and others, Abraham Lincoln felt America is a cause worth fighting for and preserving and if necessary, sacrificing for." http://www.nowdebatethis.com/
Access the Now Debate This online social network at http://confab.nowdebatethis.com/.
The Now Debate This campaign is produced and marketed by Emmy award winning TV director Steven Feldman, who has worked with talent as varied as Bill Nye, Linda Ellerbee, Bill Maher and for PBS, CBS, Disney, Nickelodeon, Comedy Central, MSNBC and Discovery. Having worked with Sesame Street, the 'Nick News, Politically Incorrect and Nickelodeon's current hit, LazyTown, Feldman's Sam Hill Entertainment is leading the way for the groundbreaking creative efforts of Now Debate This. http://samhill.tv/
In conjunction with Sam Hill Entertainment, BuzzPlant, a multipurpose Internet marketing agency, is leading the online/grassroots charge for Now Debate This. BuzzPlant works with companies such as Disney/Buena Vista, Walden Media, Twentieth Century Fox and BMG. Marketing partners include AOL/Time Warner, Yahoo and Google. BuzzPlant and its employees have been featured in The New York Times, Wall Street Journal, Wired Magazine and Fortune Magazine. http://buzzplant.com
About Pinnacle Performance Group: Now Debate This is executive produced by Pinnacle Performance Group (PPG), headquartered in Philadelphia, PA. Founded in 1992, PPG specializes in heritage education and heritage development programs.
###