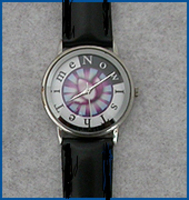 In times of struggle, it is human nature to look backwards and sometimes dwell on the past and the pain of unavoidable events
Wichita, KS (PRWEB) April 28, 2008
NowIsTheTimeWristWatch.com today launched a new "dust yourself off, and get back in line again," accessory that aims to change the outlook of those who sport it.
In a world of constant reflection on the past and constant worry about what tomorrow may bring, the main goal of the Now is the Time wristwatch is to inspire timekeepers to live in the only moment that matters - right now. Void of numbers, the Now is the Time wristwatch is instead filled with a uniquely inspirational message. In place of the missing digits, the words "Now is the Time" are laid out in typical clocklike fashion.
"This is more than a wristwatch," stated Van Strickland, creator of the Now is the Time wristwatch. "It's a gateway to dream realization." According to Strickland, the message serves as a constant reminder that the only time that matters is the present. He notes that the idea for the watch came about after witnessing the catastrophic effects of natural disasters like 2006's Hurricane Katrina and last year's ravaging California wildfires that devastated community after community.
"In times of struggle, it is human nature to look backwards and sometimes dwell on the past and the pain of unavoidable events," says Strickland. "Although it may be difficult, I believe that if people can find a way to let go of the pain and trauma of the past, happiness and productivity will flourish. These watches provide a constant, personalized source of encouragement and strength."
Standing behind the belief that positive thoughts must be accompanied by positive actions, NowIsTheTimeWristWatch.com will donate a portion of the sales to the Red Cross for disaster relief, in order to aid victims of misfortune in getting their lives back on track.
The inspiration overflows from the face of the watch. Each band also has a motivational inscription. Carved on the left, the word -BELIEVE- and on the right, the word -IMAGINE- brings home the message that if you can imagine and believe, Now Is The Time to seize and make the most of every moment. The back can also be engraved, allowing gift givers or watch wearers to further personalize the watch with an additional motivational message of their choosing.
The Now is the Time wristwatch is available for both men and women at $24.99. The 2.5 oz men's wristwatch features a genuine leather band that accommodates wrist sizes between eight and ten inches. The women's version which weighs in at 1.2 ounces features a smaller face, a thinner strap and is suited for women with wrist sizes between six and eight inches. The "Now Poem" and additional details on the Now is the Time wristwatch can be found at http://www.nowisthetimewristwatch.com or by sending an email to info @ nowisthetimewristwatch.com
or you may also contact Biz N Need by calling 888.639.1694 x 21.
###