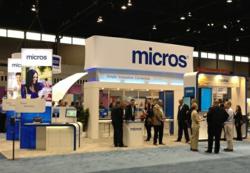 nParallel came forward with a winning design that was both creative and cost-effective
Minneapolis (PRWEB) June 13, 2013
nParallel announced its selection by MICROS Systems, Inc. to plan and build a new tradeshow exhibit, designed to scale up to 30x40-foot and 20x60-foot configurations. nParallel, Plymouth, Minn., is a full-service, design-build agency that creates, crafts, and takes charge of exhibits, displays and fixtures that establish brands in tradeshow, retail and corporate environments. MICROS Systems, Inc. develops integrated, end-to-end solutions that optimize and streamline workflows, improve customer service, and increase the bottom line in the hospitality and retail industries.
"We envisioned an exhibit which would present a compelling and consistent image of our brand across all our shows while giving us the flexibility to tailor specific messages for restaurant, hotel and retail industry audiences," said Louise Casamento, vice president of marketing, MICROS Systems, Inc. "Of the six agencies that submitted proposals to us, nParallel came forward with a winning design that was both creative and cost-effective."
With its gleaming, gloss white color trimmed in blue, succinct high-level graphics, high-tech furnishings with bright chrome, and demo stations and reception counters that are spacious and substantial while softened with smooth curves, nParallel's design for MICROS conveys a sophisticated image that emphasizes innovation and simplicity. Multiple LCD screens are utilized to communicate customized brand messages and product information for different industries at various tradeshows.
"One of the unique features of our design for the MICROS exhibit is a store window that has the capacity for eight product demonstration stands while providing visibility into the interior of the exhibit space," said Megan Diamond, president, nParallel.
nParallel also crafted special elements in response to requirements and preferences discovered in the process of planning the new exhibit with MICROS. For example, the adjustable size of the tower element (16-20 feet) gives the exhibit height without the requirement and expense of a hanging sign. In addition, MICROS can display multiple mobile hardware devices that are tethered to the exhibit.
MICROS Systems, Inc. will showcase its solutions at HITEC 2013. Sponsored by the Hospitality Financial & Technology Professionals (HFTP), HITEC is the world's largest hospitality technology tradeshow. HITEC 2013 will be held on June 24-27, 2013 at the Minneapolis Convention Center, Minneapolis, Minn. MICROS will be located at booth #301.
About MICROS Systems, Inc.
MICROS Systems, Inc. provides enterprise applications for the hospitality and retail industries worldwide. Over 370,000 MICROS systems are currently installed in table and quick service restaurants, hotels, motels, casinos, leisure and entertainment, and retail operations in more than 180 countries, and on all seven continents. In addition, MICROS provides property management systems, central reservation and customer information solutions for more than 30,000 hotels worldwide, as well as point-of-sale, loss prevention, and cross-channel functionality for more than 150,000 retail stores worldwide and 17,000 fuel and convenience stores.
For more information on MICROS, visit the MICROS website at http://www.micros.com or send an email to info@micros.com. Follow MICROS on Facebook, LinkedIn, YouTube, and the MICROS Blog.
About nParallel
Marketers and retailers know that exhibits, displays and fixtures establish their brand experience, engage customers, and energize sales – if they are designed with imagination, skillfully crafted, and managed intelligently. Too often, unfocused planning, uneven execution and unexpected costs squeeze the creative spark out of their most compelling concepts. Their alternative is nParallel, the full-service agency that creates, crafts and takes charge of exhibits, displays and fixtures designed to embody brands. Whether the venue for connecting with customers is a show, a store or a headquarters, the pros at nParallel fulfill the big-picture vision with a sharp eye focused on the small details of disciplined production and meticulous program management. For excellence without compromise, count on nParallel (http://www.nparallel.com). Call us at 763-231-4801.
###
nParallel Media Contact:
David Aquilina
Strategic Storyteller
612-716-5628
davida@strategicstoryteller.com