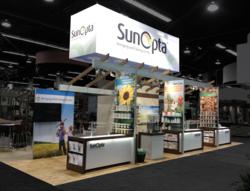 nParallel's design conveys a natural yet sophisticated image for our brand
MINNEAPOLIS (PRWEB) April 18, 2013
At the recent Natural Products Expo West (the world's largest and premier tradeshow for the natural, organic and healthy products industry), SunOpta Inc. showcased its brand and presented its products in a new 20-x40-foot exhibit designed and built by nParallel. SunOpta is a leading vertically integrated producer of organic and natural foods in the U.S., managing the entire process from field to table. nParallel is a full-service agency that creates, crafts, and takes charge of exhibits, displays and fixtures that establish brands in tradeshow, retail and corporate environments.
"nParallel's design conveys a natural yet sophisticated image for our brand," said Kristi Johnson, marketing manager, SunOpta Inc. "The exhibit layout choreographs the SunOpta brand experience for our customers and prospects."
"With SunOpta's capabilities and sourcing expertise, numerous product lines and diverse audiences, the basic design challenge was to establish a coherent presentation of the SunOpta brand," said Megan Diamond, president, nParallel. "Our design team achieved that and made the brand accessible in a warm and inviting environment."
To stage the presentation of the SunOpta brand, nParallel designed the exhibit in three sections. Product demonstration stations at the front organize the company's offerings into three summary categories (raw materials, value-added ingredients, and consumer packaged goods). The center section features two-sided graphic panels that highlight and explain key brand messages. The rear section is devoted to an informal conversation area with a coffee bar and seating.
"Natural Products Expo West was a successful show for us," said Johnson. "Our new exhibit by nParallel captures attendees' attention, enables them to quickly find the products of special interest to them, and communicates how our natural, organic and specialty foods bring well-being to life."
SunOpta will use its new exhibit by nParallel at the Institute of Food Technologists (IFT) Annual Meeting and Food Expo, July 13-16, 2013 at McCormick Place South in Chicago, IL. SunOpta will be at booth #1921.
About SunOpta Inc.
SunOpta Inc. is a leading global company focused on natural, organic and specialty foods products. The company specializes in sourcing, processing and packaging of natural and organic food products, integrated from seed through packaged products; with a focus on strategically vertically integrated business models. The company's core natural and organic food operations focus on value-added grains, fiber and fruit based product offerings, supported by a global infrastructure. More information is available at http://www.sunopta.com.
About nParallel
Marketers and retailers know that exhibits, displays and fixtures establish their brand experience, engage customers, and energize sales – if they are designed with imagination, skillfully crafted, and managed intelligently. Too often, unfocused planning, uneven execution and unexpected costs squeeze the creative spark out of their most compelling concepts. Their alternative is nParallel, the full-service agency that creates, crafts and takes charge of exhibits, displays and fixtures designed to embody brands. Whether the venue for connecting with customers is a show, a store or a headquarters, the pros at nParallel fulfill the big-picture vision with a sharp eye focused on the small details of disciplined production and meticulous program management. For excellence without compromise, count on nParallel (http://www.nparallel.com). Call us at 763.231.4801.
###