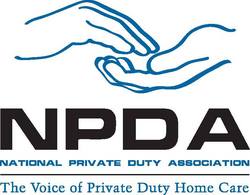 Because of the many challenges facing the providers of private duty home care, it is becoming increasingly important for agencies to join together so that we can continue to improve the industry and provide quality home care to Iowans
Ferndale, WA (Vocus) October 17, 2009
The National Private Duty Association (NPDA), the nation's first association for providers of private pay home care, has announced that a state chapter has been formed in Iowa.
"Because of the many challenges facing the providers of private duty home care, it is becoming increasingly important for agencies to join together so that we can continue to improve the industry and provide quality home care to Iowans," said Bob Stricker, president of the newly formed chapter.
The NPDA, a non-profit organization, currently represents more than 1,200 home care agencies in forty-four states and Puerto Rico. Member agencies provide a variety of services to help clients age in place with dignity, including companionship, housekeeping, and nursing care.
Stricker said the state chapter will give home care providers in Iowa an opportunity to work cooperatively on important legislative issues, share resources with other agencies and participate in core training and education programs. Members also will have access to the latest industry news and information that could affect the way all agencies conduct business.
Stricker added that consumers of home care also will benefit from a strong NPDA presence in Iowa.
"We know that being a family caregiver can be a very stressful responsibility for many people," Stricker said. "The NPDA promotes strong ethical standards and is dedicated to educating the public about private duty home care. Consumers can trust that our members will provide them with everything they need to make informed decisions about the care their loved ones receive."
The officers who will lead the NPDA's Iowa Chapter are: President Bob Stricker of Dubuque; Vice President John Mitchell of Urbandale; Treasurer Karen Huber of Cedar Rapids; and Secretary Anne Peters of Des Moines.
For more additional information, please call Bob Stricker, Home Instead Senior Care, at 563-585-1409. For more information about the NPDA, please visit the website http://www.privatedutyhomecare.org.
For more information contact:
Claudia Bohn
National Private Duty Association
888-296-2411, ext. 4
###