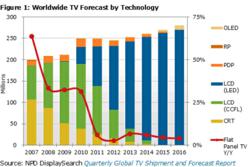 The worldwide demand for TVs is slower this year as economic uncertainty in many regions and a greater focus on profits by many LCD TV supply chain members will lead to softer price erosion
Santa Clara, CA (PRWEB) July 10, 2012
Shipments of LCD TVs are now expected to grow at a slower pace in 2012 than 2011, according to the latest Quarterly Global TV Shipment and Forecast Report issued by NPD DisplaySearch. In addition, the overall TV market is expected to decline this year, even as segments such as emerging markets, large screen sizes, LED backlights, and 3D continue to grow.
In the latest forecast update, total TV shipments are forecast to fall 1.4% in 2012 to 245M units, while LCD TV is expected to increase by 5%—compared to 7% growth in 2011—reaching 216M units. The decline in overall TV market demand and the slower growth in LCD TV shipments can be attributed to the slower rate of price erosion and cautious spending by consumers in Europe and Asia. Average LCD TV selling prices are only expected to decline 4% in 2012 compared with 6% erosion in 2011 and 10% erosion in 2010. The growth is also slower this year as the transition to digital broadcasting, which accelerated purchases in major markets over the past few years has largely been completed. However, many emerging markets are still in the early stages of the switch to digital broadcasting.
"The worldwide demand for TVs is slower this year as economic uncertainty in many regions and a greater focus on profits by many LCD TV supply chain members will lead to softer price erosion, which in turn has a direct impact on sales," noted Paul Gagnon, Director of North America TV Research for NPD DisplaySearch. Gagnon added, "However, several key high value segments of the TV business, such as large screen sizes and LED-backlit LCD TVs, continue to grow."
Growth in emerging markets like China, Asia Pacific, Latin America, Eastern Europe, as well as the Middle East, and Africa, are expected to reach 8% Y/Y in 2012, matching the pace from 2011. Growth in these regions is expected to remain in the mid-single-digit range throughout the forecast period, offsetting the lack of strong growth in countries already well along the flat panel TV conversion path.
Indeed, LCD TVs remain the only growing TV technology, as OLED TVs are likely to launch late this year, and LCD continues to take market share from both CRT and plasma technologies. LCD TVs are expected to account for about 88% of total TV shipments worldwide in 2012, up from 82% the year before, and are projected to peak around 97% of overall unit demand in 2015. Plasma TV shipments on the other hand will fall to about 5%, declining 26% Y/Y as pricing becomes uncompetitive at key sizes.
Larger screen sizes continue to increase their share as affordability improves and early adopting flat panel TV consumers re-enter the market for an upgrade. The share of TV shipments at 50" and larger screen sizes is expected to jump from 6.5% in 2011 to 7.7% in 2012 and reach 10% by 2015. This will bring the average screen size to 35" for the first time in 2012, while the average size sold in North America is expected to exceed 40" in 2013.
LED Share of LCD TV Shipments Up 25 Points Y/Y
The share of LED-backlit LCD TVs is expected to increase to 69% in 2012, compared to just 45% in 2011. The primary reason for the growth in share is the introduction of low-cost direct-LED backlight models that can be priced at a very small premium over CCFL backlit models. Direct-lit LED LCD TVs are bulkier than thin edge-lit models, but the lower cost will help move the market away from CCFL. Several governments, like China, are encouraging the purchase of these more energy efficient models.
3D TV Shipments to Grow 74% in 2012
While the outlook for 3D TV shipments has cooled somewhat, 74% Y/Y growth is still very impressive for a technology entering the third year of availability, and adoption in many regions remains robust. Both Western Europe and China are expected to have almost 30% of total TV unit shipments as 3D ready sets and after a very slow start in North America, adoption is expected to improve as the premiums fall, availability grows, and accessories like glasses decrease rapidly in cost. Even so, the growth in 3D TVs is dependent on better 3D content availability, but a broader installed base of 3D sets will encourage content producers in a virtuous cycle.
The DisplaySearch Q2'12 Quarterly Global TV Shipment and Forecast Report, available now, includes panel and TV shipments by region and by size for nearly 60 brands, and also includes rolling 16-quarter forecasts, TV cost/price forecasts and design wins. This report is delivered in PowerPoint and includes Excel based data and tables. If you need further information or assistance please contact us at +1.408.418.1900 or sales(at)displaysearch(dot)com or at the local DisplaySearch offices in China, Japan, Korea, Taiwan and the United Kingdom.
About DisplaySearch
Since 1996, DisplaySearch has been recognized as a leading global market research and consulting firm specializing in the display supply chain, as well as the emerging photovoltaic/solar cell industries. DisplaySearch provides trend information, forecasts and analyses developed by a global team of experienced analysts with extensive industry knowledge. In collaboration with the NPD Group, its parent company, DisplaySearch uniquely offers a true end-to-end view of the display supply chain from materials and components to shipments of electronic devices with displays to sales of major consumer and commercial channels. For more information on DisplaySearch analysts, reports and industry events, visit us at http://www.displaysearch.com. Read our blog at http://www.displaysearchblog.com and follow us on Twitter at @DisplaySearch.
About The NPD Group, Inc.
The NPD Group is the leading provider of reliable and comprehensive consumer and retail information for a wide range of industries. Today, more than 2,000 manufacturers, retailers, and service companies rely on NPD to help them drive critical business decisions at the global, national, and local market levels. NPD helps our clients to identify new business opportunities and guide product development, marketing, sales, merchandising, and other functions. Information is available for the following industry sectors: automotive, beauty, entertainment, fashion, food, home and office, sports, technology, toys, video games, and wireless. For more information, contact us or visit npd.com and http://www.npdgroupblog.com. Follow us on Twitter at @npdtech and @npdgroup.
Media Contact:
Stacey Voorhees-Harmon
SAVVY Public Relations
Phone: 925-336-9592
E-mail: media(at)displaysearch(dot)com