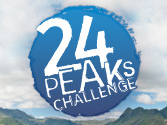 With more than 140,000 followers across all our Twitter and Facebook accounts, we hope to harness the power of social media to raise awareness about the great work Railway Children does and to raise some much needed funds
London (PRWEB UK) 6 July 2012
Britain's train information service, National Rail Enquiries (NRE), has launched its first social media campaign in aid of the international charity, Railway Children, and the Board have pledged to match the first £5,000 donated by the public.
From 13th-14th July, a team of seven will take on the 24 Peaks Challenge, scaling 24 peaks above 2,400ft in the Lake District in 24 hours. NRE has completed this challenge in aid of Railway Children twice before but this is the first time the company is using its website, which receives more than 1.5 million enquiries each weekday, Twitter and Facebook channels to actively raise funds from the general public. The campaign challenges NRE's social media community to 'Join NRE's social challenge' by donating £1 to Railway Children, either through the team's online fundraising page or by SMS through their mobile phone. Twitter followers are also being asked to retweet using the hash tag #NRE24Peaks.
National Rail Enquiries provides live train information to millions of passengers each day through its website, call centre, alerts, Twitter, Facebook and its free app for iPhone and Android operating systems. NRE has invested a great deal into developing its Twitter and Facebook service and was recently rated the UK's top brand for its use of Twitter in Headstream's Social Brands 100 report. Where internet connection permits during the challenge weekend, the team will post regular photos and video of their adventures online to keep followers informed of their progress.
"With more than 140,000 followers across all our Twitter and Facebook accounts, we hope to harness the power of social media to raise awareness about the great work Railway Children does and to raise some much needed funds. The great thing about a social media community is that if everyone gives a little, together we really can change a lot," said Chief Executive of National Rail Enquiries, Chris Scoggins.
The National Rail Enquiries campaign asks people to 'Join NRE's social challenge' by donating £1. The public can text "CHILDREN" to 70099 to donate £1* or give through the team's Virgin Money Giving page.
Railway Children fights for vulnerable children who live alone and at risk on the streets, where they suffer abuse and exploitation. For more information visit: http://www.railwaychildren.org.uk.
*Terms:
You will be charged £1.00 plus one message at your standard network rate. From most users Railway Children will receive 99p from each text donation with a minimum of 97p received dependent on your network operator.