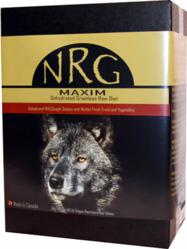 Why feed messy inconvenient raw diets that require diligent food safety practices when you can simply add water to create the ultimate balanced, fresh, raw grainless ration for your dog
Oak Harbor, WA (PRWEB) May 26, 2011
NRG Pet Products, the makers of whole foods dog foods have introduced a new line called MAXIM. Maxim is a raw dehydrated dog food. Over the years the practice of feeding canines a raw dog food, also known as a B.A.R.F. diet, has become increasingly popular. The philosophy behind feeding a dog a diet consisting of raw meats comes from research linking domestic dogs to wolves and because of this relation, dogs should eat a similar diet. This means not feeding your dog cooked and/or processed dog food.
NRG Pet Products, the makers of NRG dehydrated whole food dog food, understand this feeding protocol makes sense but also know there are many issues associated with the feeding of raw food. First, as we all know, there are safe handling practices that must be followed when dealing with raw meats. Second, dogs require a balanced diet for proper health which is different than what people eat. The feeding of a dog an unbalanced diet will cause major problems with the health of the dog. In order to help owners of champion canines in North America, NRG has come up with the most convenient way to feed your dog a raw diet. Their MAXIM dehydrated dog food is a breakthrough in the raw dog food feeding arena. Why feed messy inconvenient raw diets that require diligent food safety practices when you can simply add water to create the ultimate balanced, fresh, raw grainless ration for your dog.
NRG's Maxim raw dehydrated whole foods dog food is also the greener approach in today's earth friendly society. Dehydrated foods use less energy to manufacture than frozen foods. There is no need extra energy utilized to keep them frozen during transportation or while in a store and your home. Dehydrated dog foods are lighter in weight and therefore use less energy to transport.
NRG's all natural dehydrated dog food diets are completely balanced for all life stages. The ingredients used in their dog foods are noticable just by looking at the food. "We simply use the same ingredients we eat as people and turn this into a wholesome food for your dogs" stated Mr. Bachmann head of NRG U.S.A. The ingredients are not processed or blended as with most, if not all other dog foods. "All of our dog food is made by hand on our own farm in Canada and has been for almost fifteen years."
The ingredient panel reads like a grocery list and all of the ingredients are products that can be purchase at local markets. There are no added vitamins, minerals or supplements in the NRG Maxim raw dehydrated dog food. This is a quality whole foods dog food that is as good as the manufacturer claims it to be.
NRG Pet Products out of Canada has manufactured and sold NRG dehydrated dog food for almost 15 years. NRG's dog food diets consist of Vitality for small breeds, Optimum for large breeds and Maxim an all raw dehdyrated dog food.
###