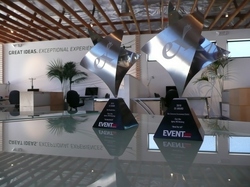 'Clients know when they come to NRG they're getting the rawest, most creative talent available from a team that wants to succeed. They know they will receive more personal attention, dedication and energy than the big agencies can provide."
Chicago, IL (PRWEB) May 20, 2010
North America's top marketing agencies gathered in Chicago on May 3rd for the nation's largest experiential marketing award ceremony. Event Marketer Magazine accepted over 600 entries for their much-anticipated 2010 Ex Awards. But this year smaller agencies took the spotlight off the larger, favored competition setting the marketing world abuzz and proving a company's talent supersedes its size.
Leading the way in Chicago was an Ex-Award newcomer—Los Angeles based NRG Marketing, who submitted entries for the first time this year and blew away the competition. NRG turned heads when they took home two of the night's most coveted awards. Nominated for Best Pop-Up Store and Best Consumer Environment/Exhibit, NRG beat out their larger competitors in both categories to take home top honors, stunning powerhouses and fellow nominees, the George P. Johnson Agency and MKG Productions.
Both Trophies are for NRG's successful 2009 The Motel No Tell campaign, in which NRG staff leveraged a growing niche market and converted a Southern California beach motel into an athlete haven to help activate Nike's action sports brand, Nike 6.0. NRG executed an extensive promotional production to elevate Nike 6.0, which supports athletes competing in surfing and snowboarding, among other sports. A hands-on campaign from the start, consumers were given access to a number of different events and forums. From yoga sessions to ping pong tournaments, The Motel No Tell hosted over 50 full-house experiential activations attended by key influencers and some of the most legendary icons of the surfing industry.
Many of these events involved and benefited at-risk Los Angeles youth. At the end of the 3-month campaign, thousands of consumers interacted with their favorite athletes and were able to truly experience Nike 6.0 and walk away with a knowledgeable, memorable experience of all the brand has to offer.
NRG's wins highlight a change in tradition in the marketing world and, in particular, the experiential marketing industry. The staple belief in decades past has been bigger is better; the bigger the agency, the better the campaign. Now, gone are the days where the largest agencies are the only option for large-scale, national and international corporate clients. Agencies like NRG have proven themselves worthy and in many cases favorable when creating marketing and brand activation campaigns.
'Clients know when they come to NRG they're getting the rawest, most creative talent available from a team that wants to succeed. They know they will receive more personal attention, dedication and energy than the big agencies can provide," says company founder and CEO Gavin Smith.
With offices in Los Angeles and Chicago, NRG has attracted some of the world's top companies as clients; such as Nike, Red Bull, Panasonic, Herbalife, IMG, NBC, ESPN and Major League Soccer. NRG goes beyond traditional marketing tactics to produce memorable, experiential events from original concepts; concepts that won them two of the nation's top industry honors and have put them in a league of an elite few. NRG's staff are not simply marketing professionals, they are uncompromising producers and designers now at the top of their class.
Experience NRG in their two-page feature spread in the June special issue of Event Marketer Magazine. And we invite you to experience NRG at http://www.experiencenrg.com or "NRG Marketing" on Facebook and "Experience NRG" on Twitter. For business and media inquiries, contact Nick James at (310) 997- 0778 or [email protected]
###