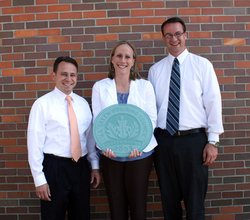 Village Green is meeting the Enterprise Green Community Initiative's criteria, the nation's premier standard for green and environmentally healthy affordable housing
Cleveland, OH (Vocus) August 8, 2009
The NRP Group announced it received the LEED Homes for Gold target performance rating from the U.S. Green Building Council (USGBC) nationally recognized LEED (Leadership in Energy and Environmental Design) green building certification program for Cornerstone Senior Apartments. The certification demonstrates the building is environmentally responsible, profitable and a healthy place to live and work. Located at 18221 Euclid Avenue, Cornerstone is a three-story apartment community comprised of 50 units in Phase I of construction.
The LEED building certification program provides third-party review and certification of a building's design, construction and performance as it pertains to green and sustainable practices. These practices include energy efficiency, water efficiency, materials and resources use, sustainable site development and indoor air quality and enhance the living quality for residents.
"This 60,000 square foot building is one of the largest Gold certified LEED project awarded," says Mike Ekis, Construction Project Manager, NRP Group. "There are different categories within the LEED certification program with multiple items that are achieved. Some are pre-requisites and other items under NRP's green commitment standards are optional such as bio retention, low flow fixtures and advanced Energy Star lighting packages."
NRP is utilizing pre-cut studs using less lumber in construction. Due to the engineering of the framing, the floor trusses can be spaced further apart. Construction debris is also recycled from the construction site. "We recycle 92% of the construction debris. Drywall and lumber is recycled and is being re-used," says Ekis.
"Village Green is meeting the Enterprise Green Community Initiative's criteria, the nation's premier standard for green and environmentally healthy affordable housing," says Mark McDermott, VP Ohio Impact Market and National Foreclosure Response for Enterprise Community Partners.
Cornerstone includes energy efficiencies including upgraded insulation, energy efficient windows, Energy Star appliances and an advanced light package. Residents will benefit from the utility savings, as well. The community is adjacent to Village Green Shopping Center and in close proximity to Duggan Park, Green Plaza and the Euclid Creek Reservation.
Ekis indicates that Cornerstone Senior Apartments is not the only green project encompassed by NRP. "We've been incorporating Green components for several years and that includes Energy Star certification for many of NRP properties. We are attempting to improve the quality of people's lives and not charge them extra for it."
For more information about Cornerstone Senior Apartments visit http://www.cornerstoneseniorapts.com or email cornerstone (at) NRPGroup (dot) com.
The NRP Group LLC: Developer, Builder and Management Company:
The NRP Group is a full-service developer, general contractor, and property manager providing a broad range of services. From start to finish, every project The NRP Group takes on is carefully contemplated and executed to maximize investment return, cost efficiency, productivity and satisfaction. The NRP Group has been ranked number one in the Top 50 Affordable Housing Developers for 2007 and 2008 by Affordable Housing Finance.
Since its founding in September 1995 by Alan F. Scott, T. Richard Bailey and J. David Heller, the company has experienced continual growth in the fields of single-family, multi-family and senior housing, as well as commercial and retail properties. In all, more than 12,000 multi-family and single-family housing units have been built with another 500+ planned in 2009.
In 2003, the owners formed NRP Management, which by year-end 2009 will manage more than 50 properties encompassing over 6,000 market rate and tax credit family and senior apartment properties in Ohio, Michigan, North Carolina, Virginia, Texas, Indiana, New Mexico and Arizona.
The NRP Group, LLC has offices in San Antonio, Texas, Cleveland, Ohio; Tucson, Arizona; Raleigh, North Carolina; for more information, call (216) 475-8900 or visit http://www.nrpgroup.com.
Contact:
Diane Christy
Phone: 216.475.8900
Fax: 216.475.0700
###