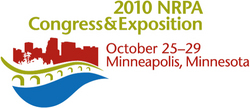 All of you share a commitment to helping every American live healthy, active lives…As the people behind our nation's parks and rec. centers, you can have an enormous impact when it comes to helping our kids stay active and eat healthy.
Ashburn, Va. (Vocus) November 4, 2010
Last week, 7,000 people gathered in Minneapolis, Minn., to participate in the National Recreation and Park Association (NRPA) 2010 Congress & Exposition: Connecting Communities, a national conference and trade show focusing on the reach and impact of public parks and recreation in the U.S. A key focus this year was how to draw attention to the essential and unique services provided by the field.
At the Opening General Session on Oct. 27, at the Minneapolis Convention Center, keynote speaker Dr. Roch Parayre of Decision Strategies International (DSI) kicked off Congress. Before an audience of 2,500 people, Parayre presented DSI's "Blue Ocean Strategy," offering advice to the park and recreation community on how to distinguish its services and find "blue waters" of new market space. During an awards ceremony, NRPA National Awards were presented to 19 individuals and agencies for significant contributions to the field, and five agencies were awarded Gold Medal Awards, presented by the American Academy for Park and Recreation Administration and NRPA, and sponsored by Musco Lighting LLC, for excellence in park and recreation management in the U.S.
At the General Session on the morning of Oct. 28, attendees were presented with a personal video message by U.S. First Lady Michelle Obama, created especially for NRPA members. She focused on the community health and livability made possible by parks and recreation, and the contributions of NRPA in the First Lady's Let's Move! campaign to encourage healthy lifestyles and fight childhood obesity within a generation of young Americans.
"Together you help promote and run nearly 105,000 parks and recreation areas in every corner of this country," said the First Lady. "All of you share a commitment to helping every American live healthy, active lives…As the people behind our nation's parks and rec. centers, you can have an enormous impact when it comes to helping our kids stay active and eat healthy."
Following the First Lady's message, former Major League Baseball star Curtis Pride, a member of the President's Council on Fitness, Sports & Nutrition, discussed how parks and recreation played a positive role in his life as an individual born with bilateral hearing loss, and as a successful professional athlete.
"It is important that kids have different options to pursue both recreational and competitive sports," said Pride. "They provide safe places for our children to express themselves and overcome obstacles… actively be a part of a team…and acquire invaluable experience in terms of meeting future life challenges."
During the Thursday session, keynote speaker Dr. John Crompton, distinguished professor at Texas A&M University, presented scientific evidence of the benefits delivered by parks and recreation. Dr. Crompton put forth that leisure services are important for communities, because "for some people, fundamental needs in terms of health and wellness are found through leisure services, and otherwise, not at all." He emphasized that people in the field should highlight the "community-wide services" provided in order to build a broader base of support.
During Congress week, Dr. Crompton and a team of researchers presented five newly-released white papers. The papers provide evidence on the impact of parks and recreation in reducing disease, helping turn the tide on carbon emissions and global warming, building confidence in young people and preventing crimes by and against them, decreasing stress and increasing overall emotional and physical wellness. The information in the papers, some of which has been quantified for the first time, supports increased funding for parks and recreation.
"The 2010 Congress was about two things: connecting communities, and empowering the field to form a collective voice," said NRPA CEO Barbara Tulipane. "Parks and recreation sustain us all as human beings, and it's up to us to share this message with America."
Throughout Congress week, attendees had access to hundreds of education sessions and a trade show featuring more than 400 exhibitors. Other highlights included: NRPA's annual "Leave It Better" community service project on Oct. 26, where volunteers constructed a sawmill-themed playground on the Minneapolis river front; the Park and Recreation Showcase and Student Quiz Bowl on Oct. 27; and, the 2010 5K for Parks and Recreation at Lake Harriet on Oct. 28, kicked off by Sunshine and O'Neal from The Biggest Loser® Season 9.
Joe Domino, a senior at Penn State University, attended Congress for the first time this year. "It's broadening our horizons to what else is out there," said Domino. "There are a lot of things that go into recreation that you don't even realize as a student, until you walk around the conference."
"I always learn something new that's going to help make my job better," said three-time Congress attendee Steven Trauger, programs coordinator for Kenton Co., Ky., Parks and Recreation. Trauger believes that leisure services are extremely important for communities, especially since the economic downturn. "Do we need parks and recreation? Yeah, we need them bad," said Trauger. "People can't afford to go 'somewhere else.' They can't afford to travel. So they need access to those close to home, free experiences that otherwise, they'd have to travel many miles to get."
Ultimately, Tulipane believes the 2010 Congress provided attendees with tools, knowledge and information, which they can use in their local communities to enact long-lasting, meaningful change.
"By connecting in Minneapolis, we empowered each other and benefited from new paradigms to learn, change and move forward," said Tulipane. "As long as we keep doing this, our field and local American communities will benefit."
About the National Recreation and Park Association
The National Recreation and Park Association is a national, not-for-profit organization dedicated to advancing park, recreation and conservation efforts that enhance quality of life for all people. Through its network of 20,000 recreation and park professionals and citizens, NRPA encourages the promotion of healthy lifestyles, recreation initiatives, and conservation of natural and cultural resources. For more information, visit http://www.nrpa.org. For digital access to NRPA's flagship publication, Parks & Recreation, visit http://www.parksandrec-magazine.org.
Media Contact:
Amy Kapp
National Recreation and Park Association
703.858.2151
akapp(at)nrpa(dot)org
# # #