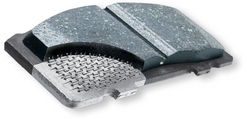 "The brake pad/disc brake interface is a violent place, with severe friction vibration and extreme temperature fluctuations"
(PRWEB) February 25, 2010
Leading brake technology developer and manufacturer NUCAP Industries Inc. says it developed NRS plate technology to address many automotive brake technology safety concerns similar to those that have resulted in recent automotive recalls.
"The brake pad/disk interface is a violent place, with severe friction, vibration and extreme heat, it's not difficult for something to go wrong," says Gerry Roy, NUCAP's Vice President of Product Development, "before NRS, brake pads were fastened to brake plates with glue – of course, in that environment, it didn't take long for the pad to delaminate, warp and start disintegrating, which caused a lot of problems, similar to the ones that are forcing vehicle recalls today."
Hundreds of metal teeth on every NRS plate create a mechanical lock that bonds the brake pad to the plate, preventing brake pad delamination and all the associated safety concerns from pad fractures and flaking. NUCAP's NRS plates are stiffer than traditional plates, which reduces friction and vibration. Applied to NRS, brake pads wear evenly throughout their lifecycle to deliver consistent stopping power and eliminate problems due to uneven pad wear
"Glue on brake pads eventually breaks down in heat – like the heat that develops under vehicle braking – and that's when the problems start," says Roy, "that's why we developed NRS - no glue means fewer brake problems and fewer brake recalls. A bonus is that using less glue in the manufacturing process is much better for the environment."
From its first introduction to the marketplace, NUCAP's NRS proved popular with manufacturers on selected applications of Original Equipment pads, racing applications and aftermarket brake pads. NRS provides the safest attachment method available in the industry.
About NUCAP Industries Located in Toronto, Canada, NUCAP designs and manufactures an extensive line of Disc Brake hardware, including NU-LOK Shims, NRS brake plates and NU-LOK Piston Cushion, for both original equipment and aftermarket friction manufacturers.
Since 1996 NUCAP has delivered a constant stream of new initiatives and designs for product development, tooling and manufacturing.
For More Information, Please contact:
Mr. Gerry Roy
Vice President of Product Development
NUCAP Industries
Toronto, Canada
Telephone: 1-416-494-1444
Email: Gerry(dot)Roy(at)nucap(dot)com
Web Site: http://www.nrsbrakes.com
###