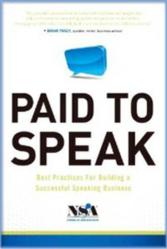 "Between the marketing strategies, practices, and winning delivery tips, this book can shave years off of your journey to becoming a million dollar speaker."
Phoenix, AZ (PRWEB) July 12, 2011
Are you a busy professional on the move or preparing to reinvent your career? "If so, you are not alone and our organization has a new book that can accelerate your journey forward," remarks Stacy Tetschner, Executive Vice President & CEO of the National Speakers Association (NSA). "Why is the book relevant? NSA's knowledge base and 3,300 members validate that, in any economy, effective communicators rise to the top of organizations. Further, more than 30 award-winning, speaking professionals joined forces to build our flagship book, 'Paid To Speak', that is a how-to collection of strategic advice and useful tips for speakers as well as presenters. Regarding the full launch, we are pleased that over 1,100 presold copies of our new book have been delivered prior to this month's official arrival on Amazon and at major Bookstores, as well as Hudson Booksellers that are located in over 60 airports throughout North America."
Curious what types of questions the new book addresses and what business leaders have to say about 'Paid To Speak'? Select questions and answers follow.
Q: What types of smart communication strategies and tips are included in the book?
A: "Several, and for example, if you are looking for ways to make your speeches more powerful and engaging," replies Gilda Bonanno, speaker, author, and coach. "Consider applying key lessons from improv comedy to increase your confidence and enhance your stage presence such as: rule no. 1 – Expect the unexpected; rule no. 2 – Step out of your comfort zone; rule no. 3 – Keep it short; and remember (to avoid stagnating) rule no. 4 - Advance the scene."
Q: Despite a technology driven society, Is dialogue the ultimate communication?
A: "Definitely", states Brian Walter, recognized speaker, author, and corporate coach. "Effective communication is not limited to writing and delivering presentations. In reality, many critical business communications take place informally, between individuals and in various settings. As an example, your elevator speech can be the single most opportunity-laden, open-ended inquiry anyone can hear. Are you familiar with the 5 different formats to consider? If you would like to learn more, please review chapter 19 in 'Paid To Speak'.
Q: Have any new books been released that can give professionals a competitive edge in the areas of speaking and presenting?
A: "Yes, 'Paid To Speak' is a remarkable book that can help you become an in demand speaker and presenter on any subject," adds Kristin Arnold, international speaker, recognized author, and President of NSA. "Between the marketing strategies, practices, and winning delivery tips, this book can shave years off of your journey to becoming a million dollar speaker."
About Gilda Bonanno
Gilda Bonanno is a speaker, trainer, and coach who helps people improve their presentation and communication skills so they can be more successful. She achieves these results by combining her extensive business experience with a talent for improvisational performance and a belief that, with the right training and practice, anyone can become a more effective communicator. She has worked with clients throughout North America and in Europe, China, and India. Gilda is also a founding member of the World Class Indifference improv comedy team, which performs shows and conduct workshops in New York City and Connecticut. She incorporates improv techniques into her speaking, training, and coaching, helping people learn to think on their toes, be creative, and develop confidence. In addition, Gilda Bonanno is president-elect of NSA-Connecticut. To learn more about Ms. Bonanno, please visit: http://www.gildabonanno.com
About Brian Walter, CSP
Brian Walter knows messaging. He's a communications consultant, speaker, infotainment expert and multi-media producer who puts more buzz into your biz. For over 25 years, in 3 careers, 9 jobs, and 5 companies, he has specialized in transforming boring into compelling. He makes messages go "verbally viral." Brian has bridged the worlds of Marketing and HR. He has insight into your communication needs because he's been there. He can explain your new brand to all employees, craft you a perfect pitch or elevator speech, or produce high impact videos to engage your internal audience. For more information about Brian Walter, please visit: http://brianwalter.com or contact him at brian(at)brianwalter(dot)com
About Kristin Arnold
For the last fifteen years, Kristin has been the President of QPC, Inc., focusing her energies on facilitating high stakes meetings, speaking to large groups about the power of teamwork, and training others to do what she does – build extraordinary teams at work. She is the author of several books including her newest book: Boring to Bravo; together with the Extraordinary Team Series (Team Basics, Email Basics and Team Energizers); and contributing author to myriad other team-based books such as The IAF Handbook of Group Facilitation. Kristin is also on the faculty in the Schulich School of Business at York University in Toronto. Further, Kristin is no prima donna - she knows what it takes to lead, facilitate and participate on high performing teams. Ms. Arnold was one of the first female graduates of the United States Coast Guard Academy and the first (and only) woman stationed onboard the USCGC Buttonwood, a sea-going buoy tender. In addition, Kristin currently serves as President for the National Speakers Association and also served as President of the Downtown Hampton (Virginia) Development Partnership. To learn more about Ms. Arnold, please visit: http://boringtobravo.com/
About The National Speakers Association
The National Speakers Association (NSA) is the world's largest, recognized authority for the profession of speaking. As a not-for profit association, NSA has over 3,000 members that include experts in a variety of industries and disciplines who reach audiences as trainers, educators, humorists, motivators, leaders, consultants, authors and more. Founded in 1973, NSA offers the highly acclaimed Certified Speaking Professional (CSP) certification, online education programs, award-winning Speaker magazine, Voices of Experience audio publication, conferences, networking, and research opportunities. They are also a member of the Global Speakers Federation. Most recently, NSA has published their flagship book, Paid To Speak, which is now available nationwide and can be found on Amazon. Built by more than 30 award-winning, speaking professionals who joined forces to build the book, it is a remarkable collection of best practices that defines the business of speaking. In addition, NSA has been featured on ABC, NBC, and in Forbes, Inc. Magazine, The New York Times, The Wall Street Journal, along with other business journals and leading industry publications.
To learn more about NSA educational programs, resources, as well as other important events, please visit their web site at: http://www.nsaspeaker.org To view the new 2011 Convention web site visit: http://influence11.org
Media Credentials: NSA leadership will close the media credential review program for the 2011 Convention shortly, so please submit details on or before June 30, 2011 if you would like to interview leadership and/or select speakers. For those members of the media that plan to attend the 2011 Convention, please send an e-mail to Andrea DiMickele at andrea(at)nsaspeaker(dot)org or contact via telephone at: +1 480-968-2552 to learn more.
Business Note: Corporations interested in exploring opportunities surrounding an NSA book series should contact the associate publisher, contact(at)greenleafbookgroup(dot)com at Greenleaf Book Group or via telephone at: +1 800.932.5420
Press Copies: Advanced readers copies of the book are available to the press upon request. Please send an e-mail to Andrea DiMickele at andrea(at)nsaspeaker(dot)org or contact via telephone at: +1 480-968-2552
CONTACT INFORMATION:
Stacy Tetschner, CAE
Executive Vice President/CEO
National Speakers Association
V: 480.968.2552
Website: http://www.nsaspeaker.org
Andrea DiMickele
Marketing Manager
National Speakers Association
V: 480.968.2552
Website: http://www.nsaspeaker.org
Note: The names of actual companies and products mentioned herein may be the trademarks of their respective owners. Corcoran Associates submittal.
##