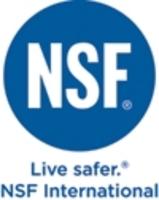 Obtaining certification is important because it helps consumers select recreational water products that have been tested and proven to meet national standards.
Ann Arbor, Mich. (Vocus) April 2, 2009
NSF International today announced that AquaPRO Systems is the first pump manufacturer to receive certification to both NSF/ANSI Standard 50 - Equipment for Swimming Pools, Spas, Hot Tubs and Other Recreational Water Facilities and ANSI/UL 1081 - Standard for Swimming Pool Pumps, Filters, and Chlorinators from NSF. Certification to NSF Standard 50 and UL 1081 for pool pumps verifies compliance with the American National Standards for these products, which establish performance and safety requirements.
"AquaPRO Systems' decision to bundle both NSF 50 and UL 1081 certifications to one accredited certification organization, NSF, which is accepted by regulators in the pool and spa industry, was a strategic move for us. It significantly reduced our time to market and total certification cost," said Joe Mauro, President of Wayne Water Systems, d/b/a AquaPRO Systems.
NSF services for pumps include certification to NSF Standard 50 and UL 1081 along with California Energy Commission and sound emissions testing. Ongoing compliance is verified through periodic facility inspections and retesting.
"We are proud to provide proactive manufacturers, such as AquaPRO Systems, the combined testing and certification services they need to demonstrate their commitment to producing safer, quality products," said Dave Purkiss, General Manager, NSF International Water Treatment and Distribution Systems. "Obtaining certification is important because it helps consumers select recreational water products that have been tested and proven to meet national standards."
NSF/ANSI Standard 50 is the American National Standard for swimming pool equipment, spas, hot tubs and other recreational facilities including filters and filter media, pumps, valves, water circulation devices, hose, piping, fittings, pool alarms, pool covers, chemical generation and feeding systems, and advanced water treatment and oxidation technologies, such as ozone and ultraviolet (UV) systems. Most local pool codes require compliance with NSF/ANSI Standard 50. ANSI/UL 1081 is also an American National Standard that includes requirements for motor-operated, non-submersible water pumps, pump-filter combinations, and chlorinators for use with swimming pools, hot tubs, and spas. The California Energy Commission (CEC) includes testing to verify compliance with multiple efficiency requirements.
NSF is accredited as a Nationally Recognized Testing Laboratory (NRTL) by Occupational Safety and Health Administration (OSHA) and as a certification organization by the Standards Council of Canada (SCC) and the American National Standards Institute (ANSI) for numerous product standards. NSF is also registered by the State of California for testing pumps to CEC requirements.
The official NSF Standard 50 Listing for AquaPRO Systems/Wayne Water Systems is available on NSF's Web site. By achieving certification, AquaPRO Systems can place the NSF Mark on its certified pumps.
For more information on AquaPRO Systems' certification or NSF's Standard 50, contact Richard Martin at martin (at) nsf.org or 734-769-5346. More information on AquaPRO Systems is available at http://www.aquaprosystems.com.
About NSF International: NSF International, an independent, not-for-profit organization, helps protect you by certifying products and writing standards for food, water and consumer goods (http://www.nsf.org). Founded in 1944, NSF is committed to protecting public health and safety worldwide. NSF is a World Health Organization Collaborating Centre for Food and Water Safety and Indoor Environment. Additional services include safety audits for the food and water industries, management systems registrations delivered through NSF International Strategic Registrations, organic certification provided by Quality Assurance International and education through the NSF Center for Public Health Education.
CONTACT: Greta Houlahan
Phone: 734-913-5723
Email: houlahan@nsf.org
###