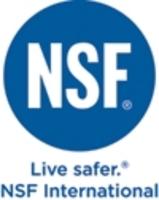 Dubai, United Arab Emirates (Vocus) February 11, 2009
WHAT: Chris Dunn, General Manager of Beverage Quality for NSF International and 30-year veteran of the beverage industry, will discuss best practices for the beverage industry at the Dubai International Food Safety Conference. The GULFOOD 2009 conference is organized by the Dubai Government and supported by the International Association for Food Protection (IAFP). Dunn will focus on certification and auditing solutions that offer product differentiation and brand protection in the global marketplace. GULFOOD is one of the world's top exhibitions for the food, drink, foodservice and hospitality industry.
WHEN: 26 February 2009, Technical Session 3, 8:30 a.m to 10:30 a.m.
WHERE: GULFOOD 2009, Dubai International Convention and Exhibition Centre, Dubai
WHO SHOULD ATTEND: Manufacturers of bottled water and beverages, bottlers, beverage producers, importers, retailers and wholesalers are encouraged to attend.
For more information about the presentation, please contact Cristin Kerwin at 734.827.5627 or email at ckerwin (at) nsf (dot) org.
BACKGROUND ON SPEAKER:
Christopher Dunn is the General Manager of the Beverage Quality Program for NSF International, a public health and safety organization based in Ann Arbor, Michigan. The NSF Beverage Quality Program offers testing, auditing and certification of beverages, including bottled water, natural mineral waters, flavored and functional beverages, and packaged ice. Before joining NSF, Dunn served as President of his own company, DunnWorks, LLC, a consulting firm that provides assistance in business development and market strategy to the water, beverage and consumer package goods industries. While developing his company, Dunn also served as Senior Vice President of BIOTA Brands of America, Inc., a bottled water company that developed the world's first environmentally-friendly bottle made from sustainable Polylactic Acid (PLA) plastic resin. His most recent initiative involved leading the planning and development of a new beverage company, Aquasis LifeH2O Bottled Water, a non-profit charity devoted to raising funds for World Vision to address the Global Water Crisis.
Dunn's previous work experience includes serving as Vice President of Business Development, Corporate Planning and Marketing for DS Waters LP, a producer and distributor of home, office and retail bottled water products. He also worked at Coca-Cola for nineteen years where he held numerous marketing positions, which included directing efforts in business development, strategic planning, franchise development, fountain, vending and sales execution. He holds an MBA from the Goizueta Business School at Emory University in Atlanta, Georgia, and a bachelor's degree in communications from the University of Denver. Since 1999, he has been involved with the International Bottled Water Association, serving as co-Chair of the Communication Committee and Chair of the Bottled Water Matters Task Force, which directs issue management. For the past several years, he has also worked with the International Packaged Ice Association.
For additional information on GULFOOD 2009, visit http://www.gulfood.com.
About NSF International: NSF International, an independent, not-for-profit organization, helps protect you by certifying products and writing standards for food, water and consumer goods (http://www.nsf.org). Founded in 1944, NSF is committed to protecting public health and safety worldwide. NSF is a World Health Organization Collaborating Centre for Food and Water Safety and Indoor Environment. Additional services include safety audits for the food and water industries, management systems registrations delivered through NSF International Strategic Registrations, organic certification provided by Quality Assurance International and education through the NSF Center for Public Health Education.
CONTACT: Greta Houlahan
Phone: 734-913-5723
Email: houlahan (at) nsf (dot) org
# # #