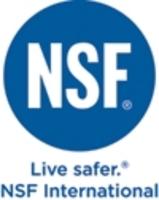 Third-party certification is important because it demonstrates IPEX's efforts to provide regulators' and users' assurance that their products meet requirements for pressure pipes
Ann Arbor, Mich. (Vocus) April 16, 2009
NSF International today announced that IPEX Incorporated, a leader in thermoplastic piping systems, is the first molecularly oriented polyvinyl chloride (PVCO) pressure pipe manufacturer to receive certification to ASTM F1483 and AWWA C909 standards for pressure pipes. NSF is currently the only organization that tests and certifies PVCO pipe to these standards.
PVCO can be used in water mains, sewer force mains, process piping and irrigation applications. NSF/ANSI Standard 14: Plastics Piping System Components and Related Materials requires that PVCO pipe meet AWWA C909: PVCO Pressure Pipe, 4-inch through 24-inch (100 mm through 600 mm), for Water Distribution and ASTM F1483: Standard Specification for Oriented Poly (Vinyl Chloride), PVCO, Pressure Pipe.
NSF's testing capabilities for ASTM F1483 and AWWA C909 standards enables NSF to package these testing services and save manufacturers of pressure pipes additional cost and time.
According to John Houle of IPEX, "Bionax PVCO is an extremely tough, high-strength pipe material that is perfectly suited for buried applications. IPEX also claims that Bionax PVCO has dramatically increased impact strength, increased fatigue resistance, and has larger inside diameters allowing increased flow. In addition, it is the most environmentally-friendly pipe on the market, with a lower carbon footprint than any other material."
"We are extremely happy with the service that NSF provided IPEX. Since this was the first time a manufacturer had certified a pipe to the AWWA C909 standard, there were many challenges to overcome, and the team at NSF was very responsive and professional. We highly recommend their services," said Mr. Houle.
The official listing for IPEX is available on NSF's Web site. For meeting the requirements outlined above, IPEX will bear the NSF-pw mark, as well as the ASTM F1483 and AWWA C909 marks on its pipes. More information on IPEX's products is available at http://www.ipexinc.com.
"Third-party certification is important because it demonstrates IPEX's efforts to provide regulators' and users' assurance that their products meet requirements for pressure pipes," said Jeremy Brown, NSF's Code and Regulatory Manager. "We are pleased to be able to offer IPEX these multiple testing and certification services to simplify and consolidate their certification needs."
For more information about ASTM and AWWA pressure pipe standards or certification services offered by NSF's Plumbing Program, please contact Jeremy Brown, NSF Codes and Regulatory Manager, at 734-769-5196.
About NSF International: NSF International, an independent, not-for-profit organization, helps protect you by certifying products and writing standards for food, water and consumer goods (http://www.nsf.org). Founded in 1944, NSF is committed to protecting public health and safety worldwide. NSF is a World Health Organization Collaborating Centre for Food and Water Safety and Indoor Environment. Additional services include safety audits for the food and water industries, management systems registrations delivered through NSF International Strategic Registrations, organic certification provided by Quality Assurance International and education through the NSF Center for Public Health Education.
CONTACT: Greta Houlahan
Phone: 734-913-5723
http://www.nsf.org
# # #