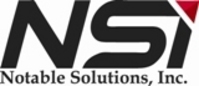 While most companies are dealing with the economic slowdown by cutting back on development and looking for ways to reduce operating costs at the expense of customers and partners
Rockville, Md. (Vocus) September 7, 2010
Notable Solutions, Inc. (NSi), today announced that it bucked the trend of sluggish information technology sales with strong annual performance for its line of distributed content capture workflow and business automation solutions.
The healthy pace of NSi sales were lead by its flagship product, AutoStore, which captures paper and electronic documents from a copier, scanner, or printer, and then processes them and routes them into the user's business system or application (Video: AutoStore in action). AutoStore's success has been with Multi Function Devices (MFD), where it is an information on-ramp to more than 500 different MFD models. This success has resulted in more than 25,000 AutoStore servers being deployed around the world and revenues nearly doubling from the company's fiscal year 2008 through 2010.
"NSi has been fortunate to successfully navigate the IT spending and global economic downturn which continues to challenge our competitors in this market," said Mehdi Tehranchi, Chief Executive Officer at Notable Solutions, Inc. "We believe our success comes from our ability to incorporate real-time feedback from our customers and partners into new versions of our products. This provides our customers with the best possible solutions to accelerate their business activities."
Major customers that purchased NSi products during fiscal year 2010 included US House of Representatives, Johns Hopkins University, Pricewaterhouse Coopers, City of Zurich, Switzerland, County of Fairfax, Virginia and Banco de Chile. Total customers for NSi products topped 5,000 during fiscal year 2010.
"Despite some very challenging economic conditions that impacted MFP sales, NSi was able to increase its market share as more users began to leverage their existing investment in MFPs and use them for scanning documents into a business workflow," said Harvey Spencer, President, Harvey Spencer Associates, Inc.
The company continued to build upon its successful channel strategy with solid performance in the MFP market from each of its OEM partners in America, Latin America, and Europe. This performance was spearheaded by the company's expansion into Latin America and strong growth in Europe. Revenue outside of North America represented over 40 percent of the company's fiscal year results.
While NSi AutoStore is sold globally in nearly every region of the world, it is also private branded as DocAccel by IKON, KyoCapture by Kyocera Mita and SMARTdocument Travel by Xerox. NSi was also named partner of the year by Xerox for its contributions this year.
NSi continued to be at the forefront of technology innovation and product development by releasing five products and three service packs of its AutoStore and OEM versions. The company also added to its portfolio of intellectual properties and has been awarded a patent for a system of sharing data element values among software components of a document processing framework that captures, processes and routes a digital image of a document.
"While most companies are dealing with the economic slowdown by cutting back on development and looking for ways to reduce operating costs at the expense of customers and partners," said Tehranchi. "We are investing into our AutoStore platform and seeing success in the distributed capture space, where our solutions enable knowledge workers to introduce assets into existing business processes. This success enabled NSi to increase revenue, gain market share, build new partnerships and reach new highs in customers in fiscal year 2010. "
About Notable Solutions, Inc. (NSi)
Notable Solutions, Inc. (NSi) is a leading provider of paper and electronic content capture and business automation solutions. NSi's flagship product, AutoStore, captures paper and electronic documents from a copier, scanner, or printer, then routes the information into the appropriate business system based on the document type. As a result, business is done faster, with less effort ¬— and with less paper. AutoStore is the information on-ramp for nearly 500 models of MFDs and network-attached scanners —from Fujitsu, HP, Kodak, Kyocera, Lanier, Lexmark, Ricoh, Savin, Sharp and Xerox.
Learn more at nsiautostore.com or follow the company on Twitter: @nsiautostore.
###