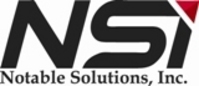 I'm proud that IT professionals recognize AutoStore as a solution that is truly enabling them to achieve green IT by reducing the paper in their organizations
Rockville, Md. (Vocus) November 2, 2010
Notable Solutions, Inc. (NSi), a leading developer of distributed content capture and workflow solutions, today announced that its AutoStore platform was named one of the Top 12 Green IT products by Network World Magazine. The prestigious roundup of green (IT) information technology products named AutoStore in the "Going Paperless" category, identifying it as one of the best environmentally friendly solutions for reducing an organization's reliance on paper.
In a "Green IT" survey conducted by Network World and its sister publication Computerworld, ninety-five IT organizations implementing smart, efficient strategies to achieve green IT were among the community of professionals that named NSi AutoStore one of the most popular green IT products and technologies in use today.
"I'm proud that IT professionals recognize AutoStore as a solution that is truly enabling them to achieve green IT by reducing the paper in their organizations," said Mehdi Tehranchi, Chief Executive Officer at Notable Solutions, Inc. " As content capture and workflow automation continues to become more integrated with business processes, NSi is evolving to provide our customers with unmatched content capture solutions. With our long-standing commitment to our customers, I am especially proud that this recognition also comes from a publication that serves the IT community."
In addition to AutoStore being named as a Top Green IT product, Xerox SMARTdocument Travel was also named to the lists. Xerox SMARTdocument Travel is a private branded version of NSi AutoStore. While NSi AutoStore is sold globally in nearly every region of the world, other private branded versions of the product also include DocAccel by IKON (a Ricoh Company) and KYOcapture by Kyocera Mita.
NSi AutoStore captures paper and electronic documents from a copier, scanner, or printer, and then processes them and routes them into the user's business system or application. AutoStore's success has been with Multi Function Devices (MFD), where it is an information on-ramp to more than 500 different MFD models. This success has resulted in more than 25,000 AutoStore servers being deployed around the world.
AutoStore has also been instrumental in helping NSi secure high-profile customer installations and corporate deals at the US House of Representatives, Johns Hopkins University, Pricewaterhouse Coopers, City of Zurich, Switzerland, County of Fairfax, Virginia and Banco de Chile enabling NSi to top the 5,000 total customer mark.
About Notable Solutions, Inc. (NSi)
Notable Solutions, Inc. (NSi) is a leading provider of paper and electronic content capture and business automation solutions. NSi's flagship product, AutoStore, captures paper and electronic documents from a copier, scanner, or printer, then routes the information into the appropriate business system based on the document type. As a result, business is done faster, with less effort — and with less paper. AutoStore is the information on-ramp for nearly 500 models of MFDs and network-attached scanners —from Fujitsu, HP, Kodak, Konica Minolta, Kyocera, Lanier, Lexmark, Ricoh, Savin, Sharp and Xerox.
###