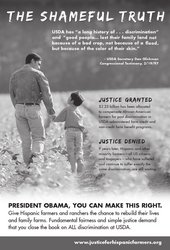 NSI is extremely proud of its public affairs efforts and this award-winning campaign is but one example of our ongoing commitment to excellence in those efforts
Washington, DC (Vocus) March 2, 2010
National Strategies, LLC (NSI), part of the Interpoint Group and nationally recognized business-to-government strategic consulting firm headquartered in Washington, D.C., is pleased to announce its selection as a Reed Award winner by Campaigns & Elections' Politics magazine.
NSI was granted the top honor in the category "Toughest Newspaper Ad" for its presentation on behalf of Hispanic farmers who have endured a long history of discrimination through the Department of Agriculture. The ad, titled "The Shameful Truth" and paid for by Justice for Hispanic Farmers, appeals to President Barack Obama to pursue restitution for the victims.
"NSI is extremely proud of its public affairs efforts and this award-winning campaign is but one example of our ongoing commitment to excellence in those efforts," NSI Chief Executive Officer Al Gordon said. "We are honored to be counted among such a prestigious group of professionals."
The awards, bestowed on political and public affairs professionals at the top of their game, are named after Politics magazine's founder Stanley Foster Reed and embody his mission to strive for excellence in political campaigning. This year's honors were given at a recent ceremony in Washington, D.C.
"Becoming a Reed Award finalist is tough. Actually winning a Reed Award is only accomplished by the most impressive creative political and public affairs talent in the world," said Jordan Lieberman, publisher of the magazine.
About NSI
NSI is a nationally recognized consulting firm providing companies with the strategy and insight to navigate complex procurement, public affairs, legislative and regulatory processes of federal, state and local government. NSI's vast network of expertise and external relationships spans the globe, and includes over 2,000 bipartisan consultants in every state capital, major city and county across the U.S. The leadership team carries unparalleled experience at the intersection of business strategy, market development, policy formation, legislation and regulation. Established in 1996, NSI has generated over $7.3 billion in new revenue and passed or blocked dozens of legislative bills for its clients. NSI is headquartered in Washington, D.C. and has offices in Florida, New York, Georgia, California and Brussels. For more information, please visit the company website at http://www.nationalstrategies.com.
Contact:
Kathy Kyle
(202) 349-7006
###