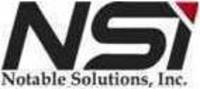 In 2010, we have seen a robust pool of early and expansion-stage companies from across the country with a variety of interesting, viable technology solutions and products designed to address market needs
Rockville, MD (Vocus) May 19, 2010
Notable Solutions, Inc. (NSi), a leading developer of distributed content capture and workflow solutions, has been selected by the Mid-Atlantic Venture Association (MAVA) to present at its annual Capital Connection™ event May 19-20 at the Hilton Baltimore Hotel, Baltimore, MD.
MAVA's team of nearly thirty seasoned investors and advisors selected NSi from a large group of applicants based on a rigorous evaluation of the quality of the product or service solution, the management team, technical and domain expertise, potential market and other criteria.
NSi's primary product line is called AutoStore. AutoStore is a server application which orchestrates the capture and secure delivery of paper and electronic documents into business applications. NSi supports more brands and more models of Multifunction Peripheral Devices (MFPs) than any other software developer, including touch screen and control panel support for many older models.
AutoStore is sold primarily through the dealer networks of manufacturers of large, networked MFPs, such as HP, Lexmark, Ricoh, and Xerox. These companies often sell private-branded versions of AutoStore, as well as NSi's own brand.
NSi has experienced strong double-digit growth through the current economic recession. The company attributes this to the relatively short implementation time, hard cost reduction due to the reduced use of paper in business workflows and quick payback compared to many corporate software products.
"In 2010, we have seen a robust pool of early and expansion-stage companies from across the country with a variety of interesting, viable technology solutions and products designed to address market needs," said Julia Spicer, MAVA's executive director. To be selected to present is a testament to the exceptional strength of these enterprises and to the compelling nature of their business proposition."
"MAVA's selection of NSi validates our business plan, operating results and ultimately the satisfaction of our customers with our products and service," says Mehdi Tehranchi, NSi's chairman and CEO. "We're honored that MAVA has recognized our success and growth potential by inviting us to this prestigious forum."
About Notable Solutions, Inc. (NSi)
Notable Solutions, Inc. (NSi) is a leading provider of paper and electronic content capture and business automation solutions. NSi's flagship product, AutoStore, captures paper and electronic documents from a copier, scanner, or printer, then routes the information into the appropriate business system based on the document type. As a result, business is done faster, with less effort ¬— and with less paper. AutoStore is the information on-ramp for over 500 models of MFPs and network-attached scanners —from Fujitsu, HP, Kodak, Konica-Minolta, Kyocera, Lexmark, Ricoh, Savin, Lanier, Sharp and Xerox.
###