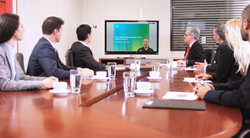 "This new partner level demonstrates the commitment to success of both Cisco and NterOne." -Brandon Yohn, President and COO
Reston, VA (PRWEB) September 01, 2015
NterOne Corporation announced today they have been approved as a direct learning partner with Cisco. The new partner designation allows NterOne to purchase content directly from Cisco, participate in marketing programs, and have more overall visibility as a company with one of their largest partners globally. "This new partner level demonstrates the commitment to success of both Cisco and NterOne," said Brandon Yohn, President and COO at NterOne, "We have developed a true partnership over the years and are very proud of this validation in moving to the highest level in the learning partner community."
In addition to NterOne's public technical training schedule, the company and Cisco have been working on numerous projects together around development, sales enablement, partner enablement, and demand generation. NterOne is also developing custom video-on-demand solutions with their award-winning platform, ClearConnect. "We will continue to align our business and resources with Cisco and key market trends," adds Brandon. "We are proud of our nimbleness and flexibility as it relates to our go to market strategy. This gives us a unique position in the marketplace and allows us to support Cisco and our other partners at the highest level of customer satisfaction."
About NterOne:
NterOne is a global training and consulting company focusing on live online training, self-paced e-learning, and private onsite training. The company is headquartered in Reston, VA, but mainly operates virtually by allowing their employees to work out of their home office to reduce the company's overall carbon footprint. NterOne is a Cisco Learning Partner, and a VMware Authorized Training Center, and operates their own Data Center in North Carolina. The company's key technology focus areas are Virtualization, Data Center, Routing and Switching, Voice, Collaboration, Optical, Wireless, and Security.
For more information, please visit the corporate web site at http://www.NterOne.com.
NterOne is a registered trademark of NterOne Corporation in the United States and/or other jurisdictions. All other marks and names mentioned herein may be trademarks of their respective companies.
Cisco and the Cisco logo are trademarks or registered trademarks of Cisco and/or its affiliates in the U.S. and other countries.