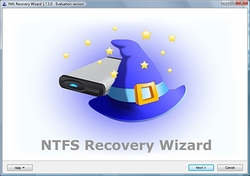 Milpitas, CA (PRWEB) August 18, 2008
Wizard Recovery Company announces the release of NTFS Recovery Wizard, a step-by-step data recovery solution for NTFS disks and partitions. NTFS Recovery Wizard makes it easy to undelete files, recover data and repair corrupted NTFS disks and volumes.
NTFS Recovery Wizard combines unprecedented ease of use with powerful data recovery capabilities. Fully automating the process of recovering files and entire NTFS partitions, NTFS Recovery Wizard is a full-scale recovery solution for the widest audiences of home and small office users.
Undeleting deleted files could never be easier. NTFS Recovery Wizard locates and recovers deleted files no matter how badly damaged the disk or partition might be. From simple restore of items deleted from the Recycle Bin to complex recovery of files deleted from a corrupted disk, NTFS Recovery Wizard does it all.
Recovering files and documents from corrupted, damaged, formatted and repartitioned disks is where NTFS Recovery Wizard truly shines. Applying powerful recovery algorithms allows NTFS Recovery Wizard to undelete files that were deleted a long time ago, recover documents lost after a system failure, disk corruption or a partition being reformatted.
Finally, NTFS Recovery Wizard is fully able to repair the original structures of damaged or repartitioned hard drives, restoring the original NTFS partitions and volumes and repairing damaged file system structures.
NTFS Recovery Wizard features several technologies that are unique to Wizard Recovery Company. Smart Scan is the core of the product that allows NTFS Recovery Wizard to recover files that have no trace of their existence left in the file system. Smart Scan recovers missing information about the exact location of such documents by scanning the entire surface of the disk and matching every sector against a database of file signatures. The signatures uniquely identify certain types of files such as office documents, digital images, movies, music, email messages and compressed archives.
To reassure users that the files are actually recoverable, NTFS Recovery Wizard implements Live Preview that displays previews of supported documents, images and multimedia files before recovering them. The technology does not write any data onto the damaged disk, and operates entirely in the computer's operating memory. If Live Preview can show a preview, the file is certainly recoverable. Live Preview works in both free and registered versions of NTFS Recovery Wizard.
For more information to the software check out the NTFS Recovery Wizard home page.
# # #