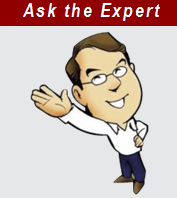 "I am very grateful to have this opportunity to leverage my wide range of experience in the retail industry to help other retailers make the most of their store." - Jim Minard
St. Louis, MO (PRWEB) June 20, 2011
Nu-Era.com, a division of The Nu-Era Group, a global retail fixture and display provider, is now providing its website visitors with the opportunity to ask a retail industry expert for advice and tips on how to make the most of their retail space. The Expert, The Nu-Era Group's vice president of Customer Support Services, Jim Minard, now offers tips, advice and answers retailers' questions via online live chat, email inquiries and blog posts in the 'Ask the Expert' section of the website.
"I am very grateful to have this opportunity to leverage my wide range of experience in the retail industry to help other retailers make the most of their store. From merchandise organization and store planning, to the preparation and arrangement of displays and store fixtures, I am looking forward to helping retailers see the immediate affects a well done visual display can have on store traffic, sales volume and brand recognition," said Nu-Era's Expert.
As The Nu-Era Group's vice president of Customer Support Services, Minard works very closely with national retailers to help them select the retail store fixtures that produce the most effective visual merchandising displays. Minard's extensive work experience in the retail industry encompasses: visual merchandising, store fixtures, store planning, special events and marketing.
'Ask the Expert' features live chat functionality and a contact form so that retailers can contact Nu-Era's Expert directly with visual merchandising questions. Included in this section is an area for frequently asked questions and answers, as well as retail industry resources and Minard's full biography. In addition, Minard will also be frequently contributing to Nu-Era's Retail Store Supply blog posts to discuss in further detail stories, tips and trends regarding the visual merchandising industry.
About Nu-Era
Headquartered in St. Louis, Missouri since 1949, The Nu-Era Group is one of the largest U.S.-based providers of custom retail fixtures and POP displays. Nu-Era's corporate offices and distribution center in St. Louis combined with facilities in China and strategic supply partners around the world make up one of the industry's most comprehensive manufacturing and distribution networks. For more information, please visit http://www.nu-era.com, or call 888-467-8673.
###