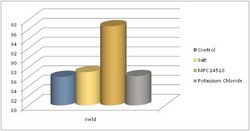 Minnetonka, MN (PRWEB) March 3, 2010
Nu-Tek, http://www.nu-tekproducts.com , manufacturer of value-added ingredients into the natural food, nutraceutical and medical food market, is proud to announce the results of a new study showing results that Nu-Tek's modified Potassium Chloride not only produces a low sodium meat product but with better taste and higher yields.
Fresh meat is naturally low in sodium, but many processors increase the sodium content by adding salts or phosphates to improve flavor or functionality. The primary additives used are salt (Sodium Chloride) and phosphates. Salt is added to processed meat at typical levels of 1-2%, thus contributing an additional 500-1000mgs. Sodium per 100g. of meat. Phosphate in the form of Sodium Tripolyphosphate is used at 0.25 to 0.5% levels and will contribute between 75-150mgs. of sodium. So for companies developing low sodium processed meat products, reducing or removing Sodium Chloride or salt from the formulations is the most effective way of doing so.
Replacing salt in meat would be easy if flavor were the only consideration. A combination of various flavors, enhancers, salt substitutes or spices can help replace the flavor notes that are lost when removing salt from the formulation.
However, salt plays a significant role in meat processing. Salt functions to increase the ions in the meat systems.
One strategy to reduce sodium is to replace it with potassium. Potassium Chloride is ionically the closest salt molecule to Sodium Chloride. It will give the closest functionality results than any of the other salt combinations. One of the drawbacks to Potassium Chloride however, is its bitter taste. Nu-Tek has developed a patent pending technology that minimizes this off flavor.
Potassium Chloride is slightly weaker ionically then Sodium Chloride. This will have some minor functional differences in meat systems. Potassium Chloride will not reduce the water activity or increase the yields as well as straight Sodium Chloride. Here again, the differences will be minimal in comparison to other salts that can be used (Calcium Chloride, Magnesium Chloride) and significantly better than flavor enhancers and spices.
Study results show that Nu-Tek's Modified Potassium Chloride enhances water holding capacity and improves yield similar to or better than Sodium Chloride. The reaction during processing of the Potassium Chloride in this proprietary process enhances the functionality of the Potassium Chloride thus aiding the yields in the meat system.
Studies were conducted in a ground beef system using the following parameters:
2% Salt, Modified Potassium Chloride or Potassium Chloride
15% Fat Ground Beef
Heat to 180 degree F on medium heat.
Coming up with a low sodium meat product is challenging but today there are many solutions. Flavor issues can be enhanced by using many current flavoring systems, but they usually fall short in terms of functional properties in meat systems. Potassium Chloride will function similarly but will have reduced yields. Nu-Tek's Modified Potassium Chloride can solve flavor and yield issues for meat processing today.
Apout Nu-Tek
Nu-Tek Products manufactures and sells functional ingredients that provide innovative solutions for its customers. Solutions range from yield improving fermentation ingredients to low sodium processed foods to ingredients used to make specialty films and coatings for use in drug delivery and medical device coatings. For more information, please visit http://www.nu-tekproducts.com.
Contact:
Teresa Isakson
Director of Sales and Marketing
Nu-Tek Products
952-936-3603
###