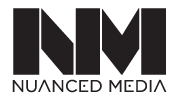 Tucson, Arizona (PRWEB) April 22, 2013
Nuanced Media Adds Video Production with New Partner Uphill Pictures
As a marketing, web design and business consulting agency, Nuanced Media looks to offer their clients top-tier services. The next step in Nuanced Media's plan to produce jaw-dropping content and design is to add a full service video production company.
The videos will allow Nuanced Media to service their clients with some of the finest video production services on the web.
Imagine a business' mission statement published on the main page of the website. Uphill studios will be combined with Nuanced Media to create high-quality videos for clients. One of the most important factors when creating a business is through brand management. The video produced by Uphill Pictures will reveal company objectives in a whole new light.
The entertainment value of a video, compared to just pictures and text, is remarkable. However, video production is only part of Nuanced Media's new services. Nuanced Media produces websites with stunning designs. The addition of video production services will allow for a higher ranking of SEO as well. Google tends to favor the use of videos, even sometimes showing up on the Google search results page.
The certain length of the video is a cause for concern for any DIY videographer. The company's website should reciprocate the mission statement.
About Nuanced Media:
Nuanced Media is a revolutionary marketing, website design and business consulting website. Nuanced takes pride in hard work and dedication to drive more consumers towards the webpage. Through social media marketing, search engine optimization, and personalized graphic design the Nuanced Team ensures professional products.
Follow us on Facebook and Twitter.