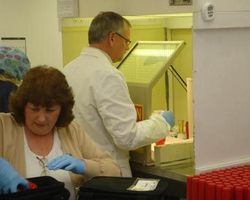 The idea was to combine all sources of information into one site presenting a global view of the Nuclear Pharmacy employment market.
Gainesville, FL (PRWEB) August 25, 2008
MedConex, a health-care recruitment company announced the launch of its new specialized website, NuclearPharmacyJob.com. The website is the first of its kind: an employment resource that focuses specifically on the growing Nuclear Pharmacy industry, providing visitors with access to all types of information in one place. Job seekers find a consolidation of Nuclear Pharmacy jobs currently available in the market, whether spec or PET nuclear pharmacy. They can submit resumes confidentially and work with a personal representative to follow up on employment leads at no cost. Employers are able to make use of recruiters who know the market and can quickly find qualified candidates.
The website serves as a meeting point for employers and job seekers in the field, ultimately making the employment process more efficient and effective. It also offers information to anyone interested in Nuclear Medicine from the general public to experts in the field. Nuclear pharmacists keep in touch with market trends, current news and with fellow colleagues by blogging. The site also introduces Nuclear Medicine to those who are curious about the field, even allowing them to see photos of nuclear pharmacists at work on location.
Healthcare Recruiter, Hayes Milani explains, "The idea was to combine all sources of information into one site presenting a global view of the Nuclear Pharmacy employment market." Milani clarifies his approach in the website's welcome video.
Using the website NuclearPharmacyJob.com to find a new job or fill an open position at a nuclear pharmacy is simple, confidential and personalized. It offers the services of specialized healthcare recruiters, who perform individualized and targeted employment searches based on the needs of a nuclear pharmacist or pharmacy. For nuclear pharmacy job seekers, the recruiter will gather a personal profile and then identify interesting employment opportunities that match the candidate's personal career goals. Next, the resume is reviewed and the candidate prepared for the interview. A post interview debriefing follows with assistance in compensation negotiations to assure the best employment package.
For employers, a large number of nuclear pharmacists are screened by a specialized healthcare recruiter, who then submits the most qualified candidates for interview. The recruiter continues to work throughout the interviewing process to assure a successful hire that will improve productivity and bottom line in an organization. In the future, MedConex anticipates adding additional services to the website, as defined by the Nuclear Pharmacy community.
Press Contact:
Amy Milani
Marketing Director, MedConex
(352) 505-6183
hmilani @ MedConex.com
NOTE TO EDITORS: For additional information visit NuclearPharmacyJob.com and MedConex.com or call MedConex's Helpline at (352-505-6183).
The MedConex and NuclearPharmacyJob logos are trademarks of MedConex.
###