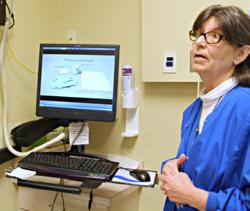 These narrated medical animations are perfect for health literacy because they require no reading and have moving diagrams of how to perform key tasks related to aftercare.
Atlanta, GA (PRWEB) April 19, 2013
Nucleus Medical Media, Inc., the Internet's leading creator of 3D medical animations, and Gwinnett Medical Center in Lawrenceville, Georgia, have launched a new patient education website featuring animated patient discharge instructions.
The "Caring for Yourself After Surgery" site features videos on seven common topics, including checking blood flow in the arms and legs, caring for surgical drains, and removing a Foley catheter. Gwinnett Medical Center uses the site as a resource before surgery and after patients are discharged from the hospital.
Gwinnett Medical Center PACU Clinical Resource Nurse Pamela Bear says the discharge animations are helping both families and her fellow nurses, "Families state they feel more confident after watching the videos and like being able to access the website to reinforce the instructions after they have returned to their homes. Nurses feel the videos actually make their job easier. After the family and/or patient have reviewed the videos, discharge instructions have more meaning for the patients and their families."
Along with detailed 3D animations and narrations, each video features a downloadable PDF with comprehensive instructions and images to reinforce patient understanding of post-surgical care. Like the animations, the companion PDFs were created strictly following the principles of effective patient communication and health literacy.
"Our goals were to improve patient satisfaction and health outcomes," said Lynne Sycamore, Patient and Family Education Coordinator with Gwinnett Medical Center. "First, our staff shows patients the discharge animations in the hospital and follows it up with a teach-back session. We discover what questions they have, and ask patients to explain the content in their own words. Afterward, patients receive a printed handout with a link to the website so they can review the material at home."
Sycamore believes video animations help patients understand information since they can pause, rewind, and watch parts again. "It's a beneficial element because often, when patients leave our care, they're still feeling the effects of anesthesia, or they may be on pain medication. Patients may not remember everything we've told them. If they prefer the paper form, they can follow those instructions, and if they need more direction, they can go back to the website and watch the animations again," she says.
Ron Collins, CEO and Cofounder of Nucleus Medical Media believes the website will help reduce hospital readmissions. "When patients receive more health information before, during and after care, they are more likely to comply with medical treatment," he says. "These narrated medical animations are perfect for health literacy because they require no reading and have moving graphic demonstrations of how to perform key tasks related to aftercare."
The animations on the website are available in English, Spanish, and Korean to address the patient demographics of northeast Atlanta. Case studies are currently being conducted by Gwinnett to determine the effectiveness of the web site among patient groups.
For further comment, contact Kim Carbonara, National Sales Manager for Healthcare, at kcarbonara(at)nucleusinc(dot)com or (770) 805-0460.
Founded in 1997, Nucleus Medical Media, Inc. is an award-winning creator of medical illustrations, medical animations, and interactive multimedia for the publishing, legal, healthcare, entertainment, pharmaceutical, medical device, and academic markets. Nucleus's clients and partners include WebMD, McGraw-Hill, Dr. Oz, EBSCO Publishing, and thousands of other businesses in new and traditional media. Nucleus employs the world's largest team of graduate-degreed medical illustrators, and has a Medical Review Board with more than 125 physicians and nurses. For more information, visit http://www.nucleushealth.com.