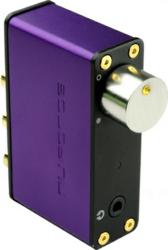 A High-Fashion USB DAC and Headphone Amp
Milpitas, CA (PRWEB) May 02, 2011
Following the widely praised Icon uDAC-2, a digital to analog converter and headphone amp for USB audio, Nuforce introduces the uDAC-2 Violet Edition. Combining true audiophile performance with the glint of high fashion, the Violet Edition makes the ideal accessory statement to any computer music system.
The Icon uDAC-2 Violet Edition is a high-performance 24bit/96kHz USB Digital Audio Converter that bypasses the generally inferior performance of computer soundcard and transforms a computer's digital music into high-quality analog sound for headphones and stereo systems. With its radiant violet case studded with 24-karat gold-plated screws and stainless-steel volume control inset with a brilliant Swarovski crystal, the uDac-2 Violet Edition is bound to find admirers, foremost among them style-conscious ladies and fashionable guys. Thousands of owners have attested to the uDac-2's stellar performance. The Violet Edition's step-beyond glamour makes it the perfect gift for that special friend.
Pricing and Availability
The suggested retail price of the Icon uDAC-2 Violet Edition is $149.
About Nuforce
NuForce is a California-based company devoted to the development of exceptional consumer-electronic products that thrill the ear, delight the eye and please the pocket -- in short, best-in-class at every price point. In 2005, NuForce launched its line with switching amplifiers based on patented technologies that swiftly positioned the company as a leader in audio's high-end marketplace. NuForce, which has won Power Amplifier of the Year awards in the United States and Japan, has since expanded into other aspects of consumer electronics. In addition to its multi-channel, stereo and mono amplifiers, the product line now includes preamplifiers, loudspeakers, audio cables, a music server, a CD player, USB-DAC based desktop & portable products, headphones and earphones.
###