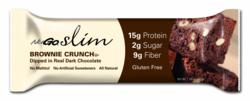 Getting slim is now something both you and your stomach can agree on
Pittsburgh, PA (PRWEB) August 31, 2011
NuGo Nutrition announces the launch of a revolutionary, diabetic-friendly product line -- NuGO Slim, the first almost sugar-free high protein bar made without maltitol or artificial sweeteners. Goodness comes naturally with only 2 grams of sugar from REAL dark chocolate and all-natural top quality ingredients. NuGO Slim is certified gluten-free by the Gluten-Free Certification Organization (GFCO) and OU Kosher Certified by the Orthodox Union. Consumers seeking to lose weight or maintain weight will enjoy the three delicious flavors: Brownie Crunch, Roasted Peanut, and Raspberry Truffle.
NuGO Slim almost sugar-free bars are low glycemic and contain 15 grams of protein. The bars have only 180 calories and 2.5 grams of saturated fat. Chicory root, a natural dietary fiber, adds 9 grams of fiber and naturally sweetens the body of the bar.
Artificial sweeteners and sugar alcohols, like maltitol, typically found in low-sugar and sugar-free bars, can cause gastric distress such as bloating, stomach cramps, and other pain. While other sugar-free bars use fake chocolate flavored palm oil coatings sweetened with maltitol, NuGo Nutrition uses REAL dark chocolate as the coating on NuGO Slim to produce a truly delicious bar with no bad aftertaste. "Getting slim is now something both you and your stomach can agree on," says NuGo President David Levine.
NuGo bars do not contain high-fructose corn syrup, hydrogenated oils, or trans fats. Unlike other protein bar manufacturers, NuGo never uses waxy vegetable fat compounds in place of REAL, antioxidant-rich dark chocolate, which makes NuGo bars the best tasting, healthiest options available.
Visit NuGo Nutrition at Natural Products Expo East in booth number 1528 to sample NuGO Slim. Expo East, the largest natural and organic trade show on the East Coast, will be held at the Baltimore Convention Center on September 22-24, 2011.
The MSRP for one bar is less than $2.00. NuGo bars are sold at retail stores nationwide, including grocery and health food stores featuring natural and organic products. All bars can be ordered online. A sample pack of NuGO Slim will be available soon. For consumers looking for vegan, dairy-free, soy-free, gluten-free, and Kosher Pareve bars, the company offers NuGO FREE bars. With 28 NuGo bars to meet different lifestyle demands, it is easy for the whole family to make better snack choices, including those with celiac disease and diabetes.
About NuGo Nutrition:
NuGo Nutrition's mission is to help people make better snack choices without compromising on flavor. Headquartered in Pittsburgh, PA, the company creates snacks without hydrogenated oils, trans fats, or waxy vegetable fat compounds. NuGo's adherence to top quality natural ingredients, like antioxidant-rich REAL dark chocolate, makes its bars the best tasting and healthiest option available. All products are certified Kosher.
View NuGo bars at a glance to find bars for special dietary needs, including vegan, dairy-free, and Pareve. NuGo Nutrition makes NuGo (family nutrition), NuGo Dark (gourmet protein bars), NuGO FREE (gluten-free, soy-free and vegan), NuGO Slim, NuGO Organic (certified organic protein bar), NuGo 10 (raw and gluten-free) and Crispy Cat (gluten-free organic candy bar).
NuGo bars can be purchased in many retail locations, online, or by calling toll free 1-888-421-2032. NuGo is also available at various retail locations internationally in Israel and Canada. Follow NuGo Nutrition on Twitter or like us on Facebook.
Contact:
Alyssa Nard, Marketing Director
NuGo Nutrition
http://www.nugonutrition.com
412-828-4115
###