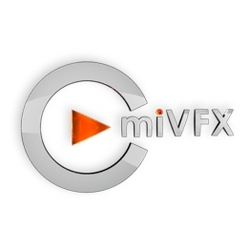 Two days ago I watched your Cinema 4D tutorial DVD: Ultimate Learning System 5 and I have to thank you for this. It was an amazing experience. I have to say that you are by far the most advanced user I have ever seen. -Tolga Soran
Princeton, NJ (PRWEB) April 8, 2010
cmiVFX launches its latest training video in the extensive Nuke collection, Nuke Tracking. Learn how to perform several key tasks involved with 2D and 3D Matchmoving without ever leaving the Nuke application. Grain removal and restoration, lens distortion removal, point cloud analysis, object reconstruction, projections, and stereoscopic paired camera equations are just a few topics covered in this robust fast paced training video. Get up to speed today, by learning all thats needed to know about these topics in one convenient place.
This video is available today at the cmiVFX store for a Special Introductory Offer Price!
Don't forget about the cmiSubscription! cmiVFX launched the most affordable subscription plan in Visual FX Training for only $299 USD and subscribers immediately have access to all new releases. The subscription plan is available today at the cmiVFX store. http://www.cmivfx.com/productpages/product.aspx?name=Subscriptions_And_Pricing
Overview
3D tracking really simplifies many compositing tasks, whether it's removing unwanted objects or adding in additional elements. Having to swap applications in order to obtain the necessary camera data has always been time consuming and making alterations difficult. Now, Nuke comes with its own camera tracker – so 3D tracking can be done exactly where you need it!
Focus on Nuke's camera tracker and learn other relevant tasks for a good track, i.e. grain/noise, lens distortion and 2d tracking. After analyzing the point cloud and solving the camera movement, learn how to set-up some geometry and recreate the scene with 3D and UV projections, then animate a new camera movement which will turn that into a stereoscopic set-up and end up with a nice (red & blue) anaglyph for a stereoscopic workflow alternative. http://www.cmivfx.com/productpages/product.aspx?name=Nuke_3D_Tracking
Chapters include:
Preparing the Footage, 2D Tracking, Lens Distortion, 3D Camera Tracking, Geometric Restoration, Projections, Detailing in 3D, Find Best Frame (FBF) and Stereoscopic.
Conclusion:
Get the most out of Nuke's camera tracker, learn how to deal with lens distortion, interpret the point cloud, set-up geometry accordingly and texture it. Exploit the 3d set-up to either create a smooth camera movement or create custom camera animations and even turn the footage into a stereoscopic shot.
This video is available today at http://www.cmivfx.com/productpages/product.aspx?name=Nuke_3D_Tracking
Visual FX & CG Training Solutions
Autodesk, Softimage, Flame, Toxik, Combustion, Adobe, Blender, Fusion, Cinema 4d, Nuke, Python, Houdini, ZBrush and more. cmiVFX is the solution for High Definition Training Videos for the Visual FX Industry.
Customer's Reviews
"Your training is invaluable - Paul Babb, Maxon CEO"
"Great tutorials' Used in the post production for Ironman 2 - Philip Shtoll, Sony Pictures Lab"
"Two days ago I watched your Cinema 4D tutorial DVD: Ultimate Learning System 5 and I have to thank you for this. It was an amazing experience. I have to say that you are by far the most advanced user I have ever seen. -Tolga Soran"
"Have to say, it's amazing - the best video tutorial we've included with the magazine to date. A great way to launch the DVD issue. Thanks for creating this 3D Artist edition of your Blender Series training -Tom Rudderham, 3Dartist Magazine'
"I'm starting to see that cmivfx is the most professional 3D resource, I learned a lot, congratulations to all of you!! I'm specially amazed with softimage ICE tutorials, I hope to see more from you! Daniel Moraleda"
When it comes to the best Visual FX & CG Training, there is simply no other option. Get started today building the future with cmiVFX, http://www.cmivfx.com
About cmiVFX
cmiVFX is the leader in High Definition Video Training for the Visual Effects Community. Register for FREE and receive hours of FREE content at cmiVFX: http://www.cmivfx.com © 2010 cmiVFX | cmiStudios. All rights reserved.
###