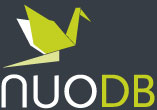 For developers who need a SQL database to scale like NoSQL, NuoDB is a game changer. NuoDB lets you keep standard SQL with scaling like NoSQL.

Marcus Ross, SQL Trainer & Consultant at Zahlenhelfer Consulting
Cambridge, MA (PRWEB) June 26, 2012
Databases today are overwhelmed by petabytes of information and millions of concurrent users – a web-scale era problem that will only get worse. NuoDB, Inc., the leader in elastically scalable database software for the cloud, today announced the release of Beta 7 of its groundbreaking web-scale database. This latest release provides five times the scalability of the previous version (50 nodes) among other new features. It is available immediately for download by NuoDB's rapidly growing beta customer base of more than 700 developers and DBAs to date.
Unlike every other database, NuoDB is built for the cloud from the ground up on an emergent architecture - a shared nothing, asynchronous, peer-to-peer approach that is ideal for the cloud, while also delivering the power, reliability and functionality of a traditional database. The latest beta release includes several key new features that incorporate developer feedback in key product areas:

Performance and scalability -- Beta 7 now supports up to 50 nodes enabling the database to elastically scale to tens of thousands of transactions per second on Amazon EC2 or local commodity servers.
Product hardening -- Beta 7 provides additional hardening and increased stability.
SQL -- Beta 7 now supports SQL 92 with 99 extensions as well as incorporating several querying and indexing enhancements and enhances SQL Standards compliance to cover a majority of application requirements.
NuoDB Administrative Console -- Functional enhancements to graphical console, which was introduced in Beta 6.
New language drivers -- Incorporates new Ruby, PHP/PDO, and Perl drivers to address growing Web development needs. These drivers were developed by the NuoDB Github community.
Customers Recognize the Unique Value of NuoDB
"For developers who need a SQL database to scale like NoSQL, NuoDB is a game changer," stated Marcus Ross, SQL Trainer and Consultant at Zahlenhelfer Consulting, Germany. "NuoDB lets you keep standard SQL with scaling like NoSQL."
"We feel privileged to be included in the NuoDB beta test. We are looking for a solution that will give us legacy code support in addition to support for explosive growth. So far, NuoDB is the only solution that gives us both." Stephen Jazdzewski, Principal Architect at TabbedOut.
"I have been a beta tester for several months now. I'm really enthusiastic about NuoDB and I want to push it in production. Nothing else comes close to the elasticity and ease of integration with both new and, more importantly, already deployed projects. Until NuoDB I've seen the cloud database only as NoSQL. With NuoDB I'm already in the cloud, with little or no effort - a cloud that manages to be backwards-compatible." Eduard Suica, Workaholic at RadGs Software.
About the NuoDB Elastically Scalable Database
NuoDB is a complete re-think of relational databases. It is specifically architected to scale effortlessly on the cloud without compromising any of the established benefits of SQL and ACID-based relational databases. The NuoDB database is SQL compliant, highly resilient, requires minimal administration, guarantees the integrity of transactions and delivers high performance at web-scale with highly efficient and flexible resource utilization.
Greater Scalability Coming in 2012
"The NuoDB Beta 7 is one more significant step forward in our complete re-think of relational databases," said Barry Morris, founder and CEO of NuoDB. "Beta 7 offers users the ability to instantly scale to 50 nodes, more than five times the scalability of the previous beta release. When NuoDB becomes generally available later this year, we expect there will be no other database architecture capable of supporting web-scale applications as efficiently or at similar scale. This not only includes traditional relational databases, but also any of the current NoSQL or NewSQL offerings. While Beta 7 supports an impressive 50 nodes now, future releases will scale out even further."
Beta 7 Availability
The NuoDB Beta 7 software is available immediately on Windows, MacOS, and Linux platforms and can be downloaded for free at http://www.nuodb.com/download.php.
About NuoDB
NuoDB, Inc. is a Cambridge, MA based startup that provides the industry's first and only elastically scalable database. Unlike every other database, NuoDB is architected to scale effortlessly on the cloud without compromising any of the features or guarantees of relational databases.
Founded in 2010 by industry-renowned database architect and innovator Jim Starkey and enterprise software CEO Barry Morris, the NuoDB database is currently in Beta and will become generally available in Q3 2012. For more information, visit us at http://www.nuodb.com.