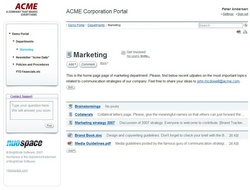 If you asked most businesses what they use to collaborate, store and share information, the overwhelming answer would be email
REDWOOD CITY, Calif. (PRWEB) March 18, 2008
Nuospace is a Web-based, software-as-a-service (SaaS) collaboration tool for small-midsize companies enabling team members to publish and share all forms of business content in a secure community environment. Nuospace is designed with technology beginners in mind as a simple-to-use, cost-effective alternative to corporate intranets and shared hard drives. The low cost and ease of use also come with a new level of functionality, as Nuospace goes beyond current wikis, which support only documents and comments, to also include social content such as blogs and e-newsletters as individual wiki pages.
"If you asked most businesses what they use to collaborate, store and share information, the overwhelming answer would be email," said Dimitri Lisitski, CEO and co-founder of BrightSide. "As a result, inboxes are unmanageable and information is stored ad hoc, becoming inaccessible to most team members. Nuospace offers a secure community environment to store and share business content, turning information into a company asset instead of a liability. Nuospace's simplicity encourages widespread team adoption, while the added functionality of supporting all business content as a wiki will delight our users."
Analysts have offered their outlook on Nuospace and the increased business adoption of Web-based collaboration tools:
-- Chris Shipley, Guidewire Group: "Nuospace enters a busy, competitive market. Yet its focus on the needs of small businesses - a focus that drives a clear feature set and superior usability - gives Nuospace a strong advantage in the market. Using Nuospace, work groups can quickly, and at no initial cost, create shared workspaces, share documents and engage with one another. Nuospace fills a gap between business wikis and content-management sites, delivering just the right and focused tools to help teams get their work done."
-- Forrester: Expect the adoption of social-networking solutions for businesses to accelerate dramatically in 2008, with many firms looking for internal social-networking solutions.*
-- Forrester: CIOs will concede that they cannot quell passionate employees' use of consumer-oriented or software-as-a-service Web 2.0 tools and will mitigate risk by deploying enterprise-class tools in their stead.*
-- AMI Partners - The number of small- to midsize companies using software as a service in 2007 doubled over 2004.**
The Nuospace beta is offered for free at http://go.nuospace.com. Nuospace will launch in June 2008, and will be free up to 200 megabytes with an unlimited number of users. For added memory, Nuospace will cost $50 per month. Nuospace is a Web-based, software-as-a-service application with an installed server version coming this fall.

Top Enterprise Web 2.0 Predictions for 2008, Forrester
** 2008 U.S. Small and Medium Business Applications & Solutions Market Overview, AMI Partners
About BrightSide Software
Founded in June 2007, BrightSide Software focuses on the Web office and the enterprise software market shift toward user-driven software-as-a-service (SaaS) products. BrightSide's new breed of Web-based products brings large scale enterprise solutions to small-midsize businesses (SMBs). BrightSide products are rooted in user interface simplicity, a SaaS service model, minimum administration and configuration effort, simple workflow models and "plug-and-play" integration with other SaaS solutions and existing IT infrastructure. The Nuospace wiki implements this vision addressing the core need of SMBs to have a single shared corporate workspace that facilitates collaboration and makes information a company asset.