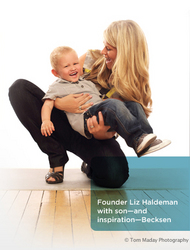 I truly believe that Nursery Notice is the easiest, greenest and most stylish way to announce the arrival of your new baby.
Chicago, IL (PRWEB) July 23, 2010
Nursery Notice Inc., (http://www.NurseryNotice.com) recently announced the launch of its website, which offers a stylishly green alternative to the typical printed birth announcement. The company's online announcements can be fully personalized, and allow family and friends to receive all of the essential details about the new baby--including photos--quickly and easily. The announcements also feature a guestbook that allows family and friends to send congratulation messages.
"After having my son, I realized that it was nearly impossible to find a chic yet green alternative to the printed birth announcement," Founder Liz Haldeman said. "Being a designer, I wanted something modern and smart, but there was nothing in the market like what I imagined. I ended up designing and building a custom website for my son's announcement. I was struck by how many people commented through the guestbook feature about the design of the website itself. People just loved it and thought it was the coolest baby announcement they'd seen. So I took a leap of faith and decided to create a service that allows others to have their own, unique website to celebrate the arrival of their new baby. Voilà! NurseryNotice.com was born."
In addition to being a "mom"-owned business, Nursery Notice is also a carbon-free business. The company purchases carbon credits through carbonfund.org to offset all of the carbon used in its operation. "It was really important to me that the 'green' aspect of sending a Nursery Notice--instead of a standard printed birth announcement--not be lost. Most people realize that saving trees by not printing something is eco-friendly. What most forget is that a great deal of energy is spent in the process of delivering mail. Sending a Nursery Notice is totally guilt free!"
The site is easy to use and a Nursery Notice takes just minutes to set up. Users choose a design (with new designs added regularly), add their baby's birth details, upload up to 15 photos with captions, create a recipient list of friends and family who will receive an email with the Notice's unique URL, then checkout and deliver. The basic Nursery Notice costs $34 and will stay live for friends and family to view for one month. Users can add additional months to extend the life of the announcement ($4 per month), or even purchase their Nursery Notice on CD ($16), giving them a lasting copy and a complete published copy of their guestbook. Other packages will be available as well and change from time to time.
See some Nursery Notice design examples in action:
Nursery Notice Online Birth Announcement Design: Alpha
Nursery Notice Online Birth Announcement Design: Joy
Nursery Notice Online Birth Announcement Design: Moss
About Nursery Notice, Inc.
Nursery Notice, Inc. (NurseryNotice.com) provides user-personalized online birth announcements. With many stylish designs to choose from, the company offers parents a modern and eco-friendly take on the traditional mailed birth announcement. Founded in 2009, the Chicago-based company is woman-owned and operated and is also a carbon-free business. For more information, visit NurseryNotice.com.
###