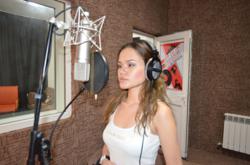 If I can give only a small amount of hope and comfort to people with this recording, then I have done my job as a singer. If I can raise money to help the children and families in need, I will be doing my job as a human being
Chicago, IL (PRWEB) June 21, 2013
Nursi, a singer/songwriter from a small town in Kazakhstan, was performing in an Almaty night club when American producer, John Steele, happened to have been traveling through Kazakhstan. Upon hearing Nursi's extraordinary singing voice, Steele immediately changed his travel plans to extend his stay so he could talk with Nursi and do a few test recordings. Steele says of the chance meeting, "The way she sang live sounded like how we spend hours in a studio recording someone to get that perfect vocal performance, and the reaction from the crowd was amazing." He continued, "I was waiting for Nursi to hit a bad note and it never happened. She just kept building and taking the song to a whole new level and making the hair on your arms stand up, kind of like you see in those inspiring X-Factor and Idol audition videos on Youtube."
For the past several years, Steele had been working with some of the top recording artists in the Asian countries and scouting unsigned singers from all over the world, in search of that one girl who has what it takes to break big in the U.S music market. Nursi's rendition of Beyonce's "Listen" was unlike anything he had ever heard anyone sing live. He says of the experience "I would have to go to a church on the south side of Chicago to find the kind of natural soul this girl has. It's extremely rare to hear someone from these countries sing like that. She's got it."
The next day, Steele and Nursi met to discuss her goals for the future, and the 2 decided to start recording a few songs to see how well they worked together. Steele said of the experience "I taped a microphone up against an ironing board, because mic stands are not easy to come by in Kazakhstan, and it was probably the best vocal sound I have ever gotten." He attributes this to Nursi's voice, which has a unique silky quality that makes a track pop. Steele adds, "Nursi has the kind of voice that sounds great instantly, and she has everything it takes to emotionally captivate any audience."
Steele wasted no time in signing Nursi to a multi-year contract that is reportedly worth over $1million and will include 2 solo album releases, a film that is being developed, and a release for the group NG. Nursi's first single release was "Listen (Live Performance)", which has been receiving great ratings and reviews. The 2nd release is "Hero (Disaster Relief)" which was Nursi's idea because she wanted to do something to help the people of Oklahoma who lost everything in the devastating tornado and she felt this cover song written by Walter Afanasieff and Mariah Carey would be a perfect tribute to all the heroes of Oklahoma. Nursi is donating 100% of her royalties from this single to the families in Oklahoma who lost everything and is doing live performances to raise money for the tornado victims. She says of the experience, "If I can give only a small amount of hope and comfort to people with this recording, then I have done my job as a singer. If I can raise money to help the children and families in need, I will be doing my job as a human being."
Nursi and Steele have begun writing and recording her new solo album, which is being produced in Kazakhstan and Europe and will be completed in the U.S. when she travels to Chicago, Los Angeles and Miami to shoot videos and add some top level featured artists on a few of the songs. Nursi will also be doing some promotional appearances with her Kazakhstan based pop/hip-hop group "New Guild (NG)" for the single "Fly Up" and album "Reload" now available in worldwide digital music stores.