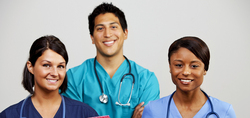 Phoenix, AZ (Vocus) March 5, 2010
CNA Arizona cites recently released Bureau of Labor statistics indicating job growth in the http://site.cnaarizona.com/Admissions.htmlhealthcare industry. The 2008 to 2018 projections included information on population, labor force, employment, employment change by industry, employment change by occupation, employment change by detailed occupation, employment change by education and training category, etc. Most notable for those choosing to pursue a career in the healthcare industry were the job growth projections.
In the listing of occupations with the fastest growth there are a total of 20 occupations listed in detail. More than half of the 20 detailed occupations with the highest projected job growth are related to the medical industry.
Ned Opfel of CNA Arizona responded, "In the struggling economy people are looking for stable, secure careers that they can depend on to provide for their families in the long run. They want one less thing to worry about. Jobs in the healthcare industry provide that security. Ensuring that you stand apart as more experienced or more certified than the next applicant only increases job security."
CNA Arizona is a certified nursing assistant program accredited by the Arizona State Board of Nursing. The campus is located in the East Valley of the Phoenix, AZ area. Upon completion of the coursework provided by CNA Arizona students are prepared to pass the State Board exam and fulfill their duties as a certified nursing assistant.
The Bureau of Labor statistics cited were made available in Table 1 titled Occupations with the Fastest Growth from the BLS Occupational Employment Statistics and Division of Occupational Outlook.
To get further information on CNA Arizona or CNA certification contact:
Contact: Ned Opfel
Company: CNA Arizona
http://www.CNAArizona.com
Phone: 480-388-7897
###