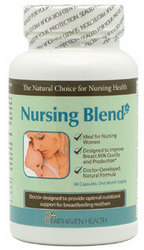 Many new moms are concerned that they are not producing enough milk.
Bellingham, WA (Vocus) August 4, 2009
Are breastfeeding mothers getting all the nutrients they need to ensure the optimal health of mom and baby? Surprisingly, for many nursing moms, the answer is likely "no". Fairhaven Health has responded with a supplement designed to address nutritional deficiencies and improve milk production.
Currently emerging evidence suggests that breastfeeding women are at risk for deficiencies in vitamin D, as well as several other important nutrients, when derived from their diet alone. Additionally, mothers themselves are frequently concerned with the quantity and quality of breast milk they produce. For these reasons, Fairhaven Health has formulated a product designed to address these very issues in the form of Nursing Blend, a natural, non-prescription breastfeeding supplement.
"Current research shows that most women are deficient in Vitamin D, which is naturally synthesized in our skin during sun exposure," says Dr. Kathleen Marinelli, an internationally recognized lactation specialist. "In the past, babies (and mothers and all humans) had significantly more sun exposure, with the majority of our Vitamin D coming from our skin. Low levels of vitamin D in mother's milk were normal, and adequate, because the main source was production in the skin by sunlight, not through diet. Studies have shown that nursing mothers are deficient, as are their babies. But the most exciting recent research shows that by increasing the intake of Vitamin D in a lactating mother, the Vitamin D levels are also increased in her milk." By providing higher levels of Vitamin D, Nursing Blend helps to support healthy teeth and bone development in the nursing baby.
Due to the concerns with sunburn and skin cancers, we cover up with clothes and sunscreen, and we are discovering that we are all, not just breastfeeding mothers and babies, low in vitamin D. This puts babies at risk for developing rickets, a disease characterized by weak bones and poor bone development. Because of this, the American Academy of Pediatrics (AAP), recommends that all babies must be supplemented with Vitamin D. Artificial baby formulas are fortified with higher Vitamin D levels for this very reason, hence the AAP recommendation that breastfed babies also need Vitamin D supplements. Breastfeeding mothers and their babies may also have low levels of other key nutrients, including Vitamins A, C, B-6, Folic Acid, B-12, and Zinc. Although many health care providers recommend that breastfeeding mothers continue to take their prenatal supplements, most prenatals do not contain sufficient levels of these important ingredients.
Nutrients for the Breastfeeding Mother
To meet these needs, Fairhaven Health, a leading supplier of natural fertility, pregnancy, and nursing related products, has introduced Nursing Blend ; a natural supplement formulated specifically for breastfeeding mothers. "There was clearly a need in the market," says Ethan Lynette of Fairhaven Health. "Several of our customers wanted to continue to use our products, even after they'd had their babies. They requested a supplement to meet their new nutritional needs as breastfeeding moms. We thought it was a great idea."
To develop the Nursing Blend formula, Fairhaven Health worked with a team of doctors, naturopaths, and nutritionists, including Dr. Marinelli , a respected authority on human lactation. The result is a unique combination of essential vitamins, minerals, and natural galactagogues (herbs that increase breast milk production) to help ensure optimal nutrition and enhanced milk production. Nursing Blend contains 100% or more of the RDA recommendations for breastfeeding mothers. Key nutrients include:

Vitamin D: Essential for healthy teeth and bone development.
Vitamin B-6: Metabolizes fat and protein, facilitates cell growth, and supports the nervous and immune systems. B-6 is needed for red and white cell production.
Folic Acid: Synthesizes DNA and aids in cell division.
Vitamin B-12: Supports the nervous system and red blood cell production.
Zinc: Supports a healthy immune system and is essential in wound healing.
Together, the vitamins and minerals in Nursing Blend ensure that both mother and baby are receiving the nutrients they need for healthy growth and development.
Herbs for Improving Milk Production
In addition to essential vitamins and minerals, Nursing Blend contains a proprietary blend of natural galactagogues as well as calming herbs to help relax mom and soothe baby. "Many new moms are concerned that they are not producing enough milk." says Lynette, "Nursing Blend contains Fenugreek and Fennel Seeds which have been demonstrated to increase milk production." In addition, calming herbs like Anise seed and Chamomile enhance the breastfeeding experience. Breastfeeding is more productive and enjoyable when both mother and baby are calm and relaxed. A complete ingredient listing can be found on the Fairhaven Health website.
About Fairhaven Health
A specialty supplier of natural, doctor-designed fertility and pregnancy related items, Fairhaven Health provides a line of products that follow the natural progression from preconception to pregnancy and nursing. Fairhaven Health integrates the best of both worlds, bringing together traditional Western medicine with clinically-supported research in herbal/homeopathic fields. All supplement products are based on clinically-established science and manufacturing is governed by strict GMP standards. Fairhaven Health's distribution partners comprise a reputable circle of health product retailers and fertility solution providers, including drugstore.com, BabyCenter, and CVS.com, as well as a number of clinics and private practices nationwide.
For further information about Fairhaven Health or interviews with Dr. Grunebaum, please contact:
Ethan Lynette
Fairhaven Health
360-671-0859
# # #