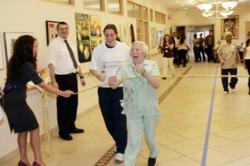 "Intergenerational activities enhance the lives of both seniors and teens." said Rita Mabli, President/CEO of United Hebrew of New Rochelle
New Rochelle, NY (PRWEB) November 28, 2011
High spirits and fun prevailed as United Hebrew of New Rochelle's nursing home and Willow Towers Assisted Living residents and local students recently teamed up for an afternoon of Olympics-style competitions recently at the 2nd Annual Intergenerational Olympics in Westchester County, New York. Over fifty residents and thirty students participated. The event was coordinated by United Hebrew, the New Rochelle Office for Aging, and the Westchester County Southeast Regional Livable Communities Connection in United Hebrew's nursing home and rehabilitation pavilion, which is part of UH's Harry and Jeanette Weinberg campus of residences and services for older adults. Residents from Willow Towers Assisted Living, part of the United Hebrew campus of services, also participated.
Students from Ursuline School, New Rochelle High School Key Club and Honors Society, Academic Pathways, and the New Rochelle Youth Bureau dedicated their time to do community service by interacting with residents and escorting them to the many activities. Adult volunteers from the New Rochelle Office for Aging also participated. Bowling competitions, wheelchair races, a gum ball shake, card games and relays took place at stations around the first floor of United Hebrew's new Skalet Pavilion. "We are committed to programs that allow our residents to interact with young people while participating in healthy exercise," said Rita Mabli, President/CEO of United Hebrew. "Intergenerational activities enhance the lives of both seniors and teens."
United Hebrew of New Rochelle's campus includes a nursing home and rehabilitation center, Willow Towers assisted living, independent living and home health care services. The pavilion has a dedicated floor for short term rehabilitation which is staff with Burke Rehabilitation therapists. Willow Towers, which opened in 2003, was the first in Westchester County to be awarded the new Assisted Living Residence (ALR) licensure, with dual certification for Enhanced Assisted Living Residence (EALR) and Special Needs Assisted Living Residence (SNALR) by the New York State Department of Health.
United Hebrew is located at 391 Pelham Road, New Rochelle, New York 10805. For further information, please contact Linda Forman at 914.632.2804 x1224, e-mail lforman(at)uhgc(dot)org, or visit http://www.uhgc.org.
For more information about Willow Towers Assisted Living contact Jean Dunphy, jdunphy(at)willowtowers(dot)com, 914.636.6565 or visit http://www.willowtowers.com.
About United Hebrew of New Rochelle
The Harry and Jeanette Weinberg Campus
United Hebrew of New Rochelle is a vibrant not-for-profit, non-sectarian, multi-service senior living campus serving the Westchester metropolitan area since 1919. United Hebrew offers a rich array of skilled and community-based programs and services that encourages and supports a life of dignity and spirituality and promotes the highest possible quality of life. United Hebrew serves over 600 clients daily in its campus facilities -- Willow Towers, a 126-unit licensed assisted living residence; a 296-bed nursing and rehabilitation center staffed with Burke Rehabilitation professionals; the 135-unit Soundview Apartments for seniors; a Long Term Home Health Care Program; and the AZOR Home Health Agency. United Hebrew recently opened its new home, which combines world class care with state-of-the-art features. http://www.uhgc.org
About Willow Towers Assisted Living
Willow Towers Assisted Living residence, a licensed Assisted Living facility by the New York State Department of Health, is an eight story state-of-the-art residence with a wide array of amenities, including activity rooms, exercise room, putting green, recreation and cultural activities, transportation, a library with internet computers, and an art studio. Willow Towers offers three restaurant-style meals daily, prepared by an experienced chef, daily housekeeping, personal laundry, scheduled transportation to medical appointments, and other services. In addition, residents have access to a beauty salon, barbershop, 24-hour cafe, and a multimedia room. Willow Towers features a two-story glass atrium and dazzling views of the Long Island Sound. Opened in 2003, the not-for-profit community located in New Rochelle offers 126 apartments, from studios to 2 bedroom suites – 20 of which are in Willow Towers' Phoenix Memory Support Neighborhood. http://www.willowtowers.com
# # #