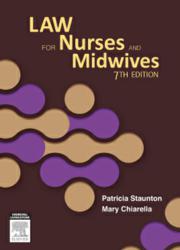 This excellent nursing textbook offers a concise introduction to the law as it pertains health care provision in Australia.
Sydney, New South Wales (PRWEB) November 26, 2012
After six bestselling editions of 'Nursing & the Law', Elsevier Australia has released a seventh edition, this time with a new name.
'Law for Nurses and Midwives, 7th edition' is an easy-to-follow introduction to the legal issues affecting health care providers in Australia.
'Law for Nurses and Midwives' reflects recent regulations changes under National Registration (implemented in July 2010). The authors have revised all state and territory statutes and have completely rewritten a chapter on Professional regulation of nursing practice. Midwifery students will also benefit from a specific new section on Maternity Services law, which addresses the new standards and guidelines for eligible midwives.
This excellent nursing textbook offers a concise introduction to the law as it pertains health care provision in Australia. Using accessible language, the text gets straight to the point, providing students with actual legal cases to illustrate the law in context.
As well as being an excellent choice for students, the book is a valuable resource for nurses and midwives returning to the workforce and an Australian law text to assist with CPD for National Registration.
Understanding the application of current legal statutes as they apply to professional practice is an essential requirement for all nurses and midwives. 'Law for Nurses and Midwives' provides students with the information and knowledge necessary to make well informed and considered decisions with and for others, paying particular attention to issues of negligence and consent.
Students will benefit from extensive endnotes for detailed referencing, along with tables and boxed information highlighting the most up-to-date data, research and statutes.
Find out more, or order your copy of 'Law for Nurses and Midwives, 7th edition'
About the authors:
Patricia Staunton, RN, CM, LLB, MCrim; Barrister-at-Law of the Inner Temple, London, Judicial Member and Deputy President of the Industrial Relations Commission of NSW, Sydney, NSW, Australia
Mary Chiarella, RN, RM, LLB (Hons), PhD (UNSW), Professor, Clinical Practice Development and Policy Research, University of Technology, Sydney, NSW, Australia
About Elsevier
Elsevier is a world-leading provider of scientific, technical and medical information products and services. The company works in partnership with the global science and health communities to publish more than 2,000 journals, including The Lancet and Cell, and close to 20,000 book titles, including major reference works from Mosby and Saunders. Elsevier's online solutions include SciVerse ScienceDirect, SciVerse Scopus, Reaxys, ClinicalKey, MD Consult and Nursing Consult, which enhance the productivity of science and health professionals, and the SciVal suite and MEDai's Pinpoint Review, which help research and health care institutions deliver better outcomes more cost-effectively.
A global business headquartered in Amsterdam, Elsevier employs 7,000 people worldwide. The company is part of Reed Elsevier Group PLC, a world-leading publisher and information provider, which is jointly owned by Reed Elsevier PLC and Reed Elsevier NV. The ticker symbols are REN (Euronext Amsterdam), REL (London Stock Exchange), RUK and ENL (New York Stock Exchange).