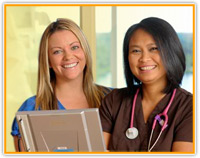 Great professional programs and ongoing educational opportunities...
Orlando, FL (PRWEB) May 24, 2012
Florida Hospital is actively looking for Registered Nurses and has many opportunities available. A nursing career at Florida Hospital offers incredible opportunities and advantages, across a growing health care system with multiple Central Florida campus locations.
We have immediate opportunities available in the following areas:
Emergency Department
Surgical Services
Pediatrics
Oncology
Critical Care: PCU, ICU / CCU, Cardiac, Neuro
Med/Surg and Med/Tele
Women's Services/Perinatal
RN Requirements:
All RN jobs require 1+ years of hospital RN experience
At this time, we are not accepting resumes for New Graduate Nurse positions
Event Information:
Nurse Managers on-site to conduct interviews and make job offers to selected candidates
Sign-on incentives available for qualified and experienced RNs
Free, easy-access parking
Please bring copies of your resume
Click "Register Today" to register now for our Florida Hospital Hiring Event. A Recruiter will contact you shortly.
Thank you for your interest in becoming a part of the Florida Hospital family.