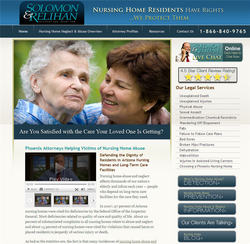 Phoenix, AZ (Vocus) October 27, 2010
Nursing home abuse and neglect is a continuous problem in the United States. There are over 16,000 nursing homes in the country with an estimated 1.7 million elderly people occupying beds, according to the Center for Disease Control and Prevention (CDC). With more people entering nursing homes each year, staffing can be an issue and sometimes elderly residents do not receive the care they deserve.
Some nursing home residents require more care than others – in particular, those that are not ambulatory. Immobile elderly residents need to be consistently moved and turned around in order to prevent bedsores from developing. If you have a loved one who is not able to move on their own, it is important to be able to recognize signs of bedsores and know what you can do to help prevent them.
What is a bedsore?
Bedsores are lesions or pressured ulcers that develop in the body. The severity of bedsores ranges from a simple abrasion-like wound to a deep puncture wound. Often bedsores appear as a pink discoloration on the skin that develops when there is consistent pressure on that one area, but when that pressure is relieved the bedsore often quickly disappears.
However, for more severe bedsores a deep puncture wound can develop that cuts through the skin to the bone, or sometimes may even pierce through the skin to an organ. The more serious bedsores can leave a deep hole in the body and look fleshy and raw.
Doctors often compare a bedsore to a burn wound, as the initial onset of a bedsore often resembles a burn wound – it begins to blister, the skins breaks, and the area becomes dry and itchy.
What causes bedsores?
Simply leaving someone lying in a bed isn't the sole cause of bedsores. There are several other factors that contribute to the injury, including:

Old age
Changing temperature and humidity
While it is possible for bedsores to form almost anywhere on the body, there are several areas which are more susceptible to bedsores, such as: the buttocks, the abdomen (particularly if laying on one's side or stomach a lot), on the lower legs in the thighs and calves areas, and on joints such as the elbows, knees and ankles. •
Preventing Bedsores
Preventing bedsores can be as simple as constantly keeping an eye on the person and not neglecting their needs. Since you cannot always be with your elderly loved one, it is important to make sure that nursing home staff or in-home caretakers are constantly monitor the elderly patient and removing any pressure points that may cause a bedsore. According to the Braden Scale of Predicting Pressure Sores, a caretaker should, on a daily basis, monitor causes of bedsores, especially mobility and friction. With proper monitoring and rotating of a resident, bedsore wounds can be prevented.
If this is not properly done, an elderly resident can develop bedsores, the more serious of which can usually be fatal. If you suspect nursing home neglect or have noticed bedsores developing in a loved one, contact a knowledgeable injury attorney in your area. The attorneys of Solomon & Relihan have been advocates for nursing home residents for many years and are experienced in handling cases of nursing home neglect and abuse.
###