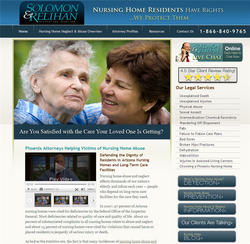 Phoenix, AZ (Vocus) July 28, 2010
One of the few things that most do not consider when transferring their loved ones from in-home care to nursing home or assisted living care is the effects this transition can have on their mental or emotional state. For many elderly individuals, having their independence essentially taken away from them upon aging is a very difficult thing to handle. When that same individual is transferred from in-home care with a family member or family friend, to nursing home care with staff members they don't recognize, this can be equally or even more difficult to endure. This difficulty can lead to bouts with depression or some other behavioral disorder or issue. If an elderly individual suffers from depression or other mental or behavioral issues due to the difficulty of this transition, it is the responsibility of the facility to insure their care of the problem.
There are many noticeable signs when an individual is suffering from depression in both young and elderly individuals alike. The National Institute of Mental Health provides information on some of these symptoms which may include:

Fatigue or decrease in energy
Feelings of hopelessness, worthlessness or helplessness
Insomnia
Loss of interest
Overeating or appetite loss
Sad, anxious or feelings of emptiness
Suicidal thoughts or tendencies
In many cases, signs such as those mentioned above often go unnoticed since most people attribute these issues as being caused by difficulties with aging. Most people believe that there is no immediate danger and there simply is nothing wrong with the individual. This can often be the decision of a caretaker or physician taking care of your loved ones in an Arizona Nursing Home or assisted living center. As a result of negligence on the part of the facility, very often, signs of depression can go unnoticed or can be misdiagnosed as some other issue.
Your loved ones should not have to suffer with bouts of depression as a result of transitioning from in-home care to nursing home care. There is no excuse for negligence on the part of the facility and your loved ones should receive the highest level of care possible, especially in their mental state of depression. If you suspect your loved ones have been neglected and they are suffering from some form of depression, you are entitled to compensation for any emotional of physical damages this negligence may cause.
Contact an Arizona Nursing Home Advocate Attorney
Any form of negligence is unacceptable especially if the patient suffers from a difficult disease such as depression. You and your family have rights. If you suspect that your loved one has suffered from a form of negligence and they are not receiving the proper care for their depression, contact an nursing home negligence attorney in the Maricopa County area. Damages can be collected for their emotional and physical suffering as a result of their depression and the lack of care given to them. For more information see http://www.nursinghomeadvocates.com.
###