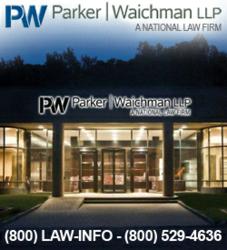 (PRWEB) July 10, 2012
Parker Waichman LLP, a national law firm dedicated to protecting the rights of nursing home abuse and neglect victims, has filed a lawsuit alleging that the negligent actions at Concourse Rehabilitation & Nursing Center in the Bronx caused one resident to suffer serious injuries. The suit was filed on July 5th in the Supreme Court of the State of New York, County of Bronx (Index No. 305738/2012).
According to the complaint, the Plaintiff was admitted to Concourse Rehabilitation & Nursing Center in June 2006. The lawsuit alleges that the woman's feeding tube was not properly cared for, which led to necrotizing fasciitis, also known as flesh-eating bacteria syndrome, last April.
Brett Leitner, a Nursing Home Abuse and Neglect attorney at Parker Waichman, emphasizes the importance of diligence when it comes to caring for nursing home residents who use feeding tubes. "Nursing homes must be extra vigilant when caring for residents with feeding tubes. Staff must clean the skin surrounding the percutaneous endoscopic gastronomy (PEG) tube site on a daily basis to prevent infection. It is also crucial that they check the placement of the tube to make sure it has not become dislodged or blocked. If the feeding tube becomes dislodged, food contents can enter the abdominal wall area, causing massive infection."
In this case, the Plaintiff ended up with a 40 cm by 20 cm (roughly 15 by 8 inch) necrotic lesion containing three liters of fluid. According to the complaint, the wound extended to all the layers of the abdominal wall. The Plaintiff underwent debridement surgery in order to remove the infected tissue. The lawsuit attributes these injuries and subsequent complications to neglect on the part of the nursing home. Among other things, the suit is alleging incurred medical expenses, disfigurement, disability, pain and suffering, mental anguish and loss of enjoyment of life.
Parker Waichman offers free legal evaluations to the victims of nursing home abuse and neglect, as well as their families. If someone you love was victimized by a negligent nursing home, please visit our nursing home abuse and negligence website. Free lawsuit evaluations are also available by calling 1-800-LAW-INFO (1-800-529-4636).
About Parker Waichman LLP
Parker Waichman LLP is a leading personal injury law firm that represents plaintiffs nationwide. The firm has offices in New York, New Jersey, Florida and Washington, D.C. For more than two decades, Parker Waichman LLP has assisted thousands of clients in receiving fair compensation due to the negligence of others and injuries resulting from defective drugs, medical devices and other products.
For more information on Parker Waichman LLP, please visit yourlawyer.com or call 1-800-LAW-INFO (1-800-529-4636).
Contact:
Parker Waichman LLP
Gary Falkowitz, Managing Attorney
(800) LAW-INFO
(800) 529-4636
yourlawyer.com