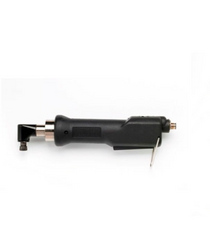 Westford, MA (Vocus) April 6, 2010
KolverUSA has developed a complete line of DC Controlled nut runners, which have a torque from 2.6 in.lbs to 132 in/lbs (15Nm), depending on the model selected.
These tools feature an inline housing, with lever start, and ESD-safe housing, coupled with a heavy-duty right angle attachment featuring a 1/4" square drive.
The Pluto Series Nut Runners operate in conjunction with a programmable controller (required). Torque is set on the controller, and validated to a separate rotary transducer, or torque tester, to insure torque accuracy. Nut runner tools feature an accuracy of -5% repeatability.
Pre-programmed torque profiles include the following parameters:
-slow start
-adjustable speed
-soft or hard joint option
-high speed rundown
-slow speed tightening to manage the moment of inertia
-automatic reverse at cycle end
-elapsed time auto-stop
Pluto Series nut runners are available in either single torque, or up to 8 multi-torque units. These nut runners will bring quality and productivity into the production process. The right angle nut runners are designed for optimum productivity with accurate and consistent torque control that will reduce quality problems and minimize production line down time. The nut runners are ergonomically designed to prevent the operator strain. For more information on KolverUSA's nut runners, contact your local sales representative.
About Kolver USA:
KolverUSA is a Joint Venture between Blackstone Global, Inc of Westford, MA and Kolver S.r.l. of Thiene, Italy. Kolver USA has combined the Kolver product line with other products from around the world and added innovative solutions to provide the most complete, cost-effective, and well-regarded products in the industry. For more information, visit http://www.kolverusa.com, or contact the company at 1 Park Drive, Unit 9, Westford, MA 01886 USA; Tel. (978) 692-5166; visit the web site for other offices, dealers, and representatives in the Americas.
# # #