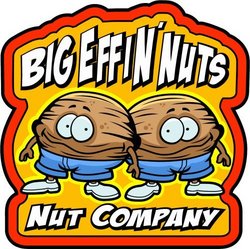 Springfield, OH (PRWEB) February 13, 2008
The Big Effin' Nut Company has finally been launched giving customers a unique, funny and flavorful gift to send to family and friends.
So another special day rolls around and you have to send someone a gift. What are you going to send? A box of chocolates? Flowers? A Card?...BORING!!
Finally there is a new company that puts the fun back in gift giving. Why send someone a boring gift when a real friend would send them a sack of nuts from The Big Effin' Nut Company.
Brought to life by the frustration of finding a unique and funny gift to send to friends and family, The Big Effin' Nut Company delivers fresh nuts, specialty snack mixes, as well as funny souvenir apparel and gifts.
And the fun doesn't stop there, instead of packaging the nuts in the typical (and boring) can or jar, these Big Effin' Nuts are kept secure in their very own…well…"Nut Sack" of course. Complete with gift card and hand written message, The Big Effin' Nut Sack makes a great gift for any occasion.
To see what all the nuttiness is about, get a peek at some Big Effin' Nuts at http://www.bigeffinnuts.com
Gift giving may never be the same.
###