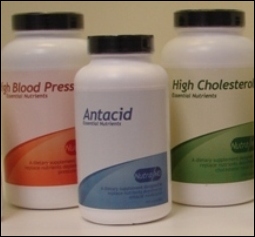 This study points out the risks that patients take when they use some prescription medications
Houston, TX (PRWEB) March 7, 2007
As the Baby Boomer population ages, nutrition and health take on a whole new meaning for a generation of me-first, active lifestyle consumers. "As Boomers age, they want to keep their health in check and monitoring the effects of prescription medications is the first step," according to Dr. Don Ford, an internal medicine physician in Sugar Land, Texas.
"Physicians and patients alike are becoming more aware that specific prescription medications deplete essential vitamins and minerals in the body," says Dr. Ford. "There have been many medical studies showing these effects and patients are not always sure how to remedy this imbalance."
For example, one recent study in the Archives of Internal Medicine identified reduced B12 as a risk factor for Metformin, an oral medication for Type II diabetics. "This study points out the risks that patients take when they use some prescription medications," according to Dr. Peter Osborne, who has a doctorate in nutrition. "There is a solution, although many physicians are still unaware of the problem."
Drs. Ford and Osborne, with their mutual interest in maintaining the nutritional health of their patients, developed a vitamin and mineral product line that addresses nutrient deficiencies resulting from prolonged use of specific prescription medications. "We researched the top ten prescribed medications and found that six of them caused nutrient depletions," says Dr. Ford. "By starting from this basic research, we developed a vitamin and mineral line to treat nutrient deficiencies caused by prescription medications for diabetes, heart disease, menopause, acid reflux and ulcer-related diseases, arthritis and contraceptive hormones."
"While these nutritional deficiencies are well documented in medical journals, they are still not published in the mainstream media where patients get their health information," according to Dr. Osborne. "If a patient does research on a specific prescription drug, vitamin and mineral deficiencies aren't listed on the side effects list. While specific clinical studies are published for the medical community, patients are often in the dark about vitamin and mineral deficiencies as a side effect."
Dr. Osborne teaches nursing students about these nutritional side effects of prescription medications and stays abreast of the latest research. "We know that nutritional deficiencies exist in the general population due to our high fat diets and sedentary lifestyles in the United States," says Dr. Osborne. "For example, many women have calcium deficiencies caused by their diets. But if they are also taking antacid medications for more than a year's time, they are at increased risk for hip fractures."
"A multi-vitamin just isn't enough," says Dr. Ford. "When I tell my patients about these vitamin and mineral side effects, they often say they will just take a multi-vitamin but the formulation is not specific to the nutritional deficiency they are experiencing."
One of Dr. Ford's patients, LaMona Weaver, suffers from rheumatoid arthritis and was put on medications to help with the joint stiffness. "I had been an active person and loved to garden, but when arthritis set in I was unable to use my hands very well. Dr. Ford recommended Arthritis Essential Nutrients by NutraMD. My energy level has increased greatly and joint stiffness reduced by using the supplement which I've been taking for over a year."
The NutraMD vitamin and mineral supplements maintain quality standards by being manufactured from proprietary blends at a GMP certified lab. Products are tested individually for purity by both independent laboratories as well as an in-house HPLC (High Performance Liquid Chromatography) process.
"Not only does the Arthritis supplement boost my energy level, it's a pure product," says Weaver. "I like that I am not putting anything artificial or chemical into my body."
For more information, visit the web site at http://www.nutra-md.com or call 1-800-928-1292.
###