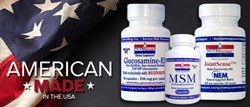 "We at NutraSense proudly manufacture and provide nutritional supplements made using the highest quality raw ingredients backed by clinical science."
Lenexa, KS (PRWEB) December 20, 2013
The recent briefing to Congress stating nutritional supplements benefit overall health and wellness, along with minimizing health care costs, was presented by top industry associations. It demonstrated that supplementation at preventative intake levels can significantly reduce the number of medical events. Executive Director of Natural Products Association says "Chronic diseases are one of the greatest contributors to health care costs in this country. Motivating at-risk consumers to effectively use dietary supplements can give sick individuals a chance to reduce the risk of costly events, and to improve their quality of life."
The NutraSense Company, providers of condition-specific, top quality nutritional supplements both sourced and made in the USA, has seen an increase in consumers seeking safe and effective supplements made using American sourced ingredients.
NutraSense announces the launch of its new website, http://www.nutrasense.com, providing easy access to human and pet product information and online purchasing. Two novel products recently introduced include ImmuneSense™ with EpiCor® for advanced immune support, and BoneHealth® with ESC® Eggshell Calcium. NutraSense manufactures an array of specialty nutritional supplements such as the only USA-sourced, FDA-approved vegetarian (shellfish-free) and Kosher Glucosamine-ES for joint support; immune and GI support products; and food-based vitamins for the whole family.
Since 1995, NutraSense has selectively chosen the highest quality raw ingredients, tightly controlled, and backed by years of clinical research and scientific studies. NutraSense offers pure pharmaceutical-grade supplements unsurpassed in quality by mass-marketed brands.
NutraSense is a member of the Natural Products Association, their TruLabel program, and holds a BBB A+ rating. They can be reached at http://www.nutrasense.com, rharding(at)nutrasense(dot)com, or 800-350-7017 M-F, 9-5:00 CST. Visit on FaceBook, Pinterest and Twitter.