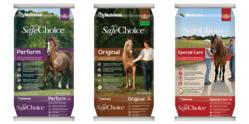 I think this is a wonderful time to be a horse because for the first time in history we have such a wide variety of products available to meet the needs of individual horses that have individual requirements. - Dr. Christie Ward, DVM
Minneapolis, MN (PRWEB) April 10, 2012
Cargill today announced it has introduced two new veterinarian-recommended Nutrena SafeChoice horse feed products formulated to help improve horse nutrition. The new products are available at participating retailers.
SafeChoice Special Care is an innovative low, controlled-starch formula, ideal for horses with metabolic concerns, easy keepers, miniatures and ponies. It contains no corn or corn co-products and is effective in horses with equine metabolic syndromes such as Insulin Resistance, Cushing's, Colic and Laminitis. SafeChoice Perform is a high-fat, controlled starch formula for performance horses and hard keepers. Energy is sourced from a blend of highly digestible fiber, starch, sugar and fat, which enables horses to maintain stamina and helps in recovery.
The entire SafeChoice product line features the exclusive SmartGrain Formulation™, which uses the ideal blend of nutrients to help reduce metabolic disturbances. Prebiotics and probiotics are added to help horses achieve a more efficient absorption of nutrients. Also included are organic trace mineral complexes to support immune system growth, and amino acids for muscle development and maintenance. Every bag of Nutrena horse feed delivers consistent nutrients.
"SafeChoice feed has been recognized as a leader in horse feed for many years," said Jackie Rieck, marketing manager for Nutrena feeds. "The new SafeChoice Special Care and SafeChoice Perform lines will help our customers' horses achieve their full potential."
The SafeChoice horse feed line includes the original formula, which will remain unchanged. The packaging will reflect the new look being introduced with the new products.
As a special offer to kick-off these new product lines, consumers can go to http://www.SafeChoiceFeed.com to register for a coupon for a free bag of SafeChoice® Special Care or Perform. See website for details.