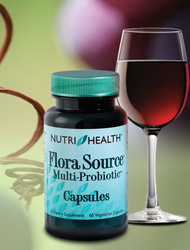 We are health-driven, plain and simple, and we strive for healthy communities, healthy individuals, and, with the Sedona Winefest, good healthy fun! - Trish Mahon, Nutri-Health President
Cottonwood, AZ (PRWEB) September 8, 2010
Nutri-Health Supplements, based in Northern Arizona's Verde Valley, has been supporting healthy digestion for over 20 years with their flagship multi-probiotic product, Flora Source®, and their full line of probiotic and natural health supplements. The company is active in the local community, and is now sponsoring the Sedona Winefest, a premiere tasting event featuring 13 wineries from throughout Arizona and hosted by the non-profit organization Sedona Fair Inc.
"We are delighted to sponsor the Sedona Winefest this year," says Trish Mahon, President of Nutri-Health Supplements. "We think of wine and probiotics as the perfect wellness pairing. Moderate amounts of red wine support a healthy heart, and a natural compound in red wine called resveratrol has been researched for its role in "feeding" beneficial probiotics and flora in the intestinal tract."
"Wine and a healthy lifestyle are cornerstones of our culture here in Northern Arizona," says Mahon. "Both help make up what our millions of visitors call the 'Sedona experience,' and as a trusted local wellness company, we're proud to be a part of this reputation for health and healing."
Arizona Supplements and Wine Earn National Reputations
Arizona wineries have been winning national awards for quality and breakthrough wines, with many varietals competing against California's most powerful wineries. The Arizona Winefest will feature some of the top local offerings including wine from Freitas Vineyard, Javelina Leap, Caduceus Cellars, Merkin Vineyards, Jerome Winery, Bitter Creek Winery, Page Springs Cellars, Arizona Stronghold, Alcantara, Pillsbury Wine Co., Oak Creek Vineyards, Juniper Well Ranch Vineyards, and Carlson Creek Vineyard.
Nutri-Health Supplements serves a national clientele, shipping their probiotic and natural supplement formulations across the United States to a highly loyal and growing customer base. Recent discussions include a possible expansion to select Asian markets.
"Our customers are passionate about Nutri-Health products," says Mahon, "particularly our Flora Source® Multi-Probiotic® and Flora Sinus® Seasonal Support. Both are the kind of probiotic supplements that people take 'for life' and recommend to friends and family. We offer one-of-a-kind, 100 percent natural formulas that you simply can't find anywhere else."
"Our goal as a company is to grow and continue to play a key role in the community and create great natural supplements," says Mahon. "We are health-driven, plain and simple, and we strive for healthy communities, healthy individuals, and, with the Sedona Winefest, good healthy fun!"
The Sedona Winefest, held all day on September 25 and 26 at the Sedona Airport, anticipates a busy event this year with the Sedona Airport featuring a fly-in as well as a classic car show on September 25 from 9 am to 2 pm. The weekend event features live music, gourmet food, prizes, and of course spectacular wines and health supplements. Sponsors such as Nutri-Health will be available with product samples, literature, and experts to answer any questions.
For more information on Nutri-Health Supplements, visit http://www.nutri-health.com or call 800-914-6311.
Find Nutri-Health on Facebook and Twitter!
###